---
NASCAR BGN: Dover Brings Special Memories to McLaughlin
17 September 1998
Quotes from Mike McLaughlin, 1997 Busch Series Most Popular Driver:
Mike McLaughlin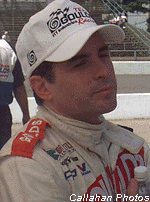 "This weekend's race in Dover brings back a lot of special memories for me. I won my first Busch race in Dover in 1995 and instantly fell in love with the place. Everytime we go back there to race, I seem to feel a little bit of extra confidence. We are going to try to duplicate that magic this weekend and celebrate in Victory Lane. I know we are going to have 400 Goulds Pumps customers in the stands on Saturday and I plan on giving them a lot to cheer about!"
PIT NOTES
Richmond proved to be a bombshell to McLaughlin in the points race this year. After suffering a problem in the spring and the lap 2 accident last week, McLaughlin earned a total of 140 points in the two races. Points leader Dale Earnhardt Jr., earned 365 points in the two Richmond races, a difference of 225 points.
Mike McLaughlin has now passed the 1.9 million-dollar mark in career winnings. McLaughlin is the 2nd leading all-time money winner in the Busch Series.
Editors Note: The images displayed in this article (plus many more) can be viewed in The Racing ImageGalleries and the Visions of Speed Art Gallery.