---
NASCAR-WCUP: Relief Driver For Pressley at Dover
16 September 1998
Robert Pressley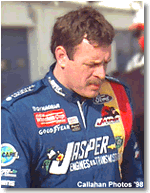 Mooresville, NC -- After the x-rays revealed that Robert Pressley suffered a broken right scapula during the running of the Exide Batteries 400 at the Richmond International Raceway on Saturday night, there was some speculation on whether on not he would drive in the MBNA 400 at Dover Downs International Speedway this Sunday (September 20.) The answer to that question is that Robert Pressley will not be behind the wheel of the # 77 Jasper Engines and Transmissions Ford.
Hut Stricklin will pilot the Jasper Machine this weekend at Dover. "I am glad Jasper has given me the opportunity to drive this weekend. I wish Robert the best and hope he is feeling better." Commented Stricklin. "These guys are an upcoming team and I am looking forward to working with them for this week."
Crew Chief Newt Moore is looking forward to working with Hut also. "Hut is a good driver that has had some good runs this year and great qualifying efforts." Said Moore. "Roberts status is week to week at this point. Hut will be here for this week and then we will look at next week when we discuss with Robert how he feels."
Editors Note: The images displayed in this article (plus many more) can be viewed in The Racing ImageGalleries and the Visions of Speed Art Gallery.