---
NASCAR WCUP: It's Old Times for Kenny Wallace
15 September 1998
Kenny Wallace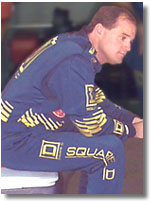 HARRISBURG, N.C., - It seems like old times for Square D Ford driver Kenny Wallace now that he's reunited with interim crew chief David Ifft at FILMAR Racing. Ifft was Wallace's crew chief during his first year on the NASCAR Busch Series, Grand National Division circuit in 1989. In the last two races that Ifft has served as crew chief, Wallace has scored a 10th (Darlington) and an 11th place finish (Richmond).
In Saturday night's Exide NASCAR Select Batteries 400 at the .750-mile Richmond (Va.) International Raceway, Ifft made a strategic call to pit with just 35 laps remaining. With four fresh tires, Wallace picked off position after position until there were no more positions left to pick up. His 11th place finish was as high in the running order as the 35-year-old could get, being that he was the first car one lap down.
"David Ifft is just awesome at calling pit stops," said Wallace. "His call from the pits is what got us 11th place. A lot of those guys who were a lap down like us didn't pit when we did. We still came out of the pits with good track position, and with fresh tires we were able to pass 'em all on the outside."
Of all the venues on the NASCAR Winston Cup tour, Dover Downs (Del.) International Speedway is one track that Square D Ford driver Kenny Wallace does not have on his list of favorite places.
"About the only thing I look forward to when I go to Dover is the casino," said Wallace. "At least my luck is better there."
Lady Luck certainly was not with Wallace in June at the MBNA Platinum 400. A cut right front tire on lap 32 sent the St. Louis native hard into Dover's turn three wall. He walked away from the accident unhurt, but it was still a jarring impact that left Wallace with some soreness come Monday morning.
"Even though I don't like Dover, I still drive to win because I enjoy racing," continued Wallace. "I haven't had much success there, but I still get myself pumped up to go. I have to. I'm a racer."
FILMAR Racing will again use engines leased from Robert Yates Racing for this weekend's MBNA Gold 400 at Dover. The team has been using Yates-built engines since the New Hampshire Winston Cup event.
Editors Note: The images displayed in this article (plus many more) can be viewed in The Racing ImageGalleries and the Visions of Speed Art Gallery.