---
NASCAR-WCUP: Gordon Captures Fourth Consecutive Pepsi Southern 500 at Darlington
7 September 1998
Jeff Gordon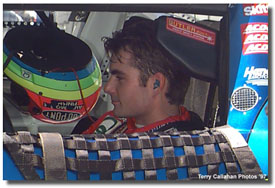 DARLINGTON, S.C. -- Jeff Gordon captured his fourth consecutive Pepsi Southern 500 NASCAR Winston Cup Series event at historic Darlington Raceway Sunday by holding off Jeff Burton in the event's final laps.
For Gordon, it was his tenth NASCAR Winston Cup Series win of the season and his fifth at Darlington. The race came down to a two-car shootout over the race's final circuits. Burton, who led a race-leading 273 laps on the day, relinquished the lead to Gordon with 26 laps remaining and held on to win by 3.631 seconds.
Darlington Raceway, commonly referred to as the track "Too Tough To Tame," was unusually tame as NASCAR's original superspeedway was the scene of only two cautions for 16 laps. The fifth and final caution of the day, which was brought out for debris on the track, set up the 113-lap run to the finish.
For the second year-in-a-row, Gordon took home a million dollar bonus from Winston. By winning the Brickyard 400 last month, Gordon became eligible to win another million dollar bonus from Winston's No Bull 5 promotion if he was victorious at Darlington. Dale Earnhardt, Mike Skinner and Bobby Labonte were also eligible for the million dollars, but none seriously threatened the lead. Earnhardt finished fourth while Labonte and Skinner came home 26th and 15th, respectively.
"Unbelievable, I don't what to say," said Gordon. "Jeff Burton just killed us all day. I really thought he (Burton) was playing with us at the end. The track just came to us, Burton and his crew had a great pit stop and started driving away, but we just stayed consistent and we were able to catch him.
"This is a great day for us. This might have been the hardest race I've ever run. We were sliding all over the place earlier in the day and I didn't think it was going to be our day. But, that goes to show you what kind of team we have, we just kept adjusting on the car and never gave up."
Runnerup Burton was searching for his second victory the season. Although having the dominate car for the majority of the afternoon, Burton could not muster a final last corner attempt at the lead. He came home second in the Pepsi Southern 500 for the second year-in-a-row. Burton's teammate Mark Martin suffered a serious blow to his title hopes as his Ford succumbed to engine problems on lap 318.
"We got real loose at the end," said Burton. "I guess it's my fault, I haven't been feeling well lately and I guess couldn't tell the crew exactly what the car needed. We had a good day, but just not fast enough for that No. 24."
Gordon, who averaged 139.031 mph in victory, won $134,655.
Editors Note: The images displayed in this article (plus many more) can be viewed in The Racing Image Galleries and the Visions of Speed Art Gallery.