---
NASCAR WCUP: Steve Park To Help Father Resume Racing Career
8 September 1998
Steve Park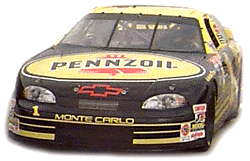 (Mooresville, N.C.) -- #1 Pennzoil Monte Carlo driver Steve Park believes helping his Dad climb back behind the wheel of a race car is just a small way to repay the man instrumental in his growth as a person as well as his ascent to the NASCAR Winston Cup Series.
So this September, when 55-year-old Bob Park straps himself into the seat of a Southern Modified Auto Racing Teams (SMART) car and fires the engine to resume his long racing career, it will mean more than just another racer hoping to make a race. Instead, that race car and race team will be a successful son's way of repaying the driver for a lifetime of guidance and love.
"Your Mom and Dad do so much for you from the day you are born that anything you can do later in life to make their lives more enjoyable is certainly worth it," said the younger Park who is competing in his first full season for the Dale Earnhardt Inc. team.
"My Dad's biggest love in his life, besides his family, is racing. He had the time and I had the money to help him so we decided to go racing again."
The elder Park raced for years in the Northeast near his East Northport, N.Y. home competing in the NASCAR Featherlite Modified Series as well as some ARCA, Busch North and Busch South races. By day, he worked for a trucking firm as a gear specialist, but at night after supper, Bob Park worked in his garage getting his cars ready for himself and sometimes his young son Steve.
"Racing has always been in my blood," said Bob Park. "I never made a lot of money at it, but it gave me some very good times with good friends and family and that is worth more than money to me."
Bob has enjoyed much success since he began his racing career at Islip Speedway on Long Island back in the early 1960s. He won several modified races at Riverhead Speedway and New Egypt Speedway. Park finished second to the late Richie Evans in the annual modified tour standings in the early 1980s.
"Just the other day I was reading a racing newspaper and they wrote something about a race I won at Riverhead and that brought back a lot of pleasant memories," recalled Bob Park. "I don't have any dreams of making this a career again, but it would be nice to do well. This will be more like a hobby."
About six months ago Bob and Dotti Park sold their race cars and equipment and left the family house to their eldest son Todd and his wife Lisa. The Parks moved from Long Island to Concord, N.C. to be closer to Steve and help him in his growing Winston Cup career. Bob took a job at Dale Earnhardt Inc. as a gear specialist and Dotti moved Steve's Fan Club headquarters to Mooresville, N.C.
After living with friends, the Parks bought a house in the area. With life less hectic now that he's settled into a new job and new house, Bob Park began thinking about resuming his racing. He put the bug in Steve's ear about buying a race car.
"I was pretty excited and told him I'd help him as much as I can," said Steve who raced his father several times in the modified series. "It's kind of fun to see him thinking about driving again just like he was when I was growing up."
A few weeks ago he cleared space in the garage at the new house and bought a car. After coming home from the Earnhardt shop each night Bob eats supper, watches RPM 2Night, then goes out in the garage to work on the car until bedtime.
"He's been that way all his life so I've grown pretty used to that," said Dotti Park describing her husband's fascination with race cars. "If getting back in a race car makes him happy then it makes me happy."
Bob Park is now hard at work tinkering with the car each night and assembling a pit crew among friends and co-workers. Plans call for him to enter the Sept. 12 and Sept. 26th races at Caraway Speedway and the Sept. 19 race at Tri-County Speedway in North Carolina.
"Racing is what I love to do most in life," Bob said. "Ever since I moved down here I knew this is what I wanted to do. I feel I can still do it but if I can't then I won't. We'll just have to see, but I think it will be fun."
Replacing Father Led to Steve Park's First Big Break in Racing
Steve Park's first big break in racing came when Bob Park's ARCA schedule forced him to miss a qualifying session at Riverhead Speedway one night. He needed someone to qualify the car and turned to his 17-year-old son Steve. Up to that time, Steve had been "playing" with go-karts since age 12 and moved to four-cylinder cars by the time he turned 16 years old. It wasn't a matter of making a quick lap or two. At Riverhead, you had to race your way in the field, since they took only six of the eight cars in the qualifying race.
The young Park started at the rear of the field because crewmembers "were afraid to start me anywhere near where I could hurt someone," he said. Park proved a quick learner, grabbing the final spot much to the delight of his father, who returned in time and replaced Steve before the race.
"You could tell Dad was pleased," recalled Steve. "I think he would have been pleased no matter what, but it made me feel good that he would trust me enough to let me try to qualify his car, and it made me feel even better that we got the job done."
Editors Note: The images displayed in this article (plus many more) can be viewed in The Racing Image Galleries and the Visions of Speed Art Gallery.