---
NASCAR WCUP: Kenny Wallace/Square D Racing Review/Preview
3 September 1998
Kenny Wallace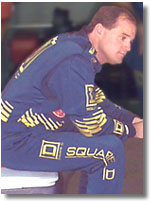 HARRISBURG, N.C., - Square D Ford driver Kenny Wallace scored a season-best sixth place finish in Sunday's CMT 300 at New Hampshire International Speedway. The race was by far the finest effort for FILMAR Racing in 1998, as Wallace took the lead on lap four before relinquishing it 30 laps later to eventual runner-up Mark Martin. A strategic move by crew chief Newt Moore to take just two tires on the third and final pit stop on lap 233 vaulted Wallace from 16th to seventh in the running order. From there, the St. Louis native was able to continue his pursuit of the leaders, running as high as third before dropping to sixth as the brakes on the No. 81 Taurus began to fade in the waning laps of the event.
The TranSouth Financial 400 at Darlington (S.C.) Raceway on March 22 yielded a ninth-place finish for Square D Ford driver Kenny Wallace. It was his second top-10 in a row, as he notched a seventh-place finish the week before in the Primestar 500 at Atlanta Motor Speedway. Wallace would certainly like to improve upon that performance when he returns to the 1.366-mile oval this Sunday for the Pepsi Southern 500.
"It seems like we've always been able to run in the top-10 at Darlington," said Wallace. "We just never capitalized on our ability to finish in the top-10 until earlier this year. We had some problems in first round qualifying, but we worked those out and we ended up as the fastest second round qualifier, which was really important because that got us a pit stall on the frontstretch.
"When you're running at Darlington, you're threading the needle every lap," continued Wallace. "There's just no room for error. When you find a groove you're comfortable running, it's really easy to get out of that groove because the track is so narrow. You've got to be a focused individual when you're driving that place.
"Turn one is a very high-banked, fast corner, and if you come out of (turn) two well, you can carry a lot of speed down the back straightaway. But that speed can bite you when you go into (turn) three because it's a flat, narrow corner, as is turn four. The grooves are within inches of each other, so it's important to know where you are on that race track."
Editors Note: The images displayed in this article (plus many more) can be viewed in The Racing Image Galleries and the Visions of Speed Art Gallery.