---
The Callahan Report: Gordon Continues to Make Martin's Dream Season a Nightmare
31 August 1998
Mark Martin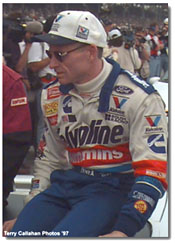 LOUDON, NH:
Mark Matin is having the best season of his NASCAR Winton Cup career. It could truly be called a "dream season." Martin rarely finishes outside the top-ten. He has finished second or better in the last six races. Race after race, Martin is out-running the "best of the best" on the Winston Cup circuit . . . with one exception. Martin's dream season turned into another nightmare Sunday at New Hampshire International Speedway. For the fifth time in six races, Martin finished second to Jeff Gordon.
Gordon, the Houdini of NASCAR, continues to escape disaster. Just as he has done so many times this season, Gordon found victory in a race he was not even a contender in until the waning laps. Part of the magic in Gordon's bag of tricks is in crew chief Ray Evernham.
The boss of the Rainbow Warriors pit crew called for two tires on Gordon's last pit stop. The move saved enough time to give Gordon the lead in the race. There was a touch of a miracle as well. Two tires were exactly what Gordon needed to cure his ill-handling race car. The two time Winston-Cup Champion pulled away in the final 60 laps to win the CMT 300.
"Once you got caught on the outside, you were in trouble," said Gordon. "I got caught once early, but my teammate, (Terry Labonte) let me back in line. The next time, I was going backward so fast even he couldn't help me."
Concerning Evernham's call for the two tire change, Gordon said, "I didn't say a word, and that usually means I'm not too crazy about it, but I know Ray, and that's what I figured we were going to do. He doesn't mind making gutsy calls. It was just like Michigan. My car seemed to come to life with those two tires at the end."
No one could have tried harder than Mark Martin to catch the young star of NASCAR. Martin left some paint from his Valvoline Ford Taurus on the walls while in pursuit of Gordon. He had four fresh tires which should have been enough to easily catch the DuPont Chevy. It wasn't. Gordon cruised into the distance as Martin could only pinch himself trying to awaken from another Sunday afternoon's scary dream.

Jeff Gordon
Martin clearly had the strongest car on the track. He led the most laps in the race. He could not lead the one that counted. He said, simply "The 24 car was just too fast for us. I tried to catch him, but I just couldn't do it."
Martin can only sit back and watch as Gordon re-writes the racing history books. Martin and the Valvoline team have done everything right. They just happen to be doing it at a time when THE driver of this generation is in his prime. Martin has never complained. He understands the kind of talent he is trying to beat. Even in defeat, Martin ran along-side Gordon at the conclusion of the CMT 300 and gave him a gentlemanly salute. Martin has the class of a true champion. His time will come. With some bad luck on the part of Jeff Gordon, Martin's long awaited first championship could come in 1998.
Gordon and Martin have pulled out nearly a 200 point lead on Dale Jarrett, who is in third place in the Winston Cup points chase. The 1998 season is coming down to a two man shootout. Matin has not conceded the championship. He is only 67 points behind Gordon in the battle for the coveted Winston Cup.
Both Martin and Gordon are due for some bad luck. The Championship could come down to who has the worst luck. Sit back, relax, and enjoy what could be one of the most exciting Winston Cup Championship races in history.
Editors Note: The images displayed in this article (plus many more) can be viewed in The Racing Image Galleries and the Visions of Speed Art Gallery.