---
NASCAR-WCUP: Jeff Burton-Short Tracks
28 August 1998
Jeff Burton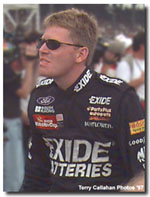 Martinsville, VA---What makes NASCAR Winston Cup racing unique among the world's premier auto racing series is its diversity. There are superspeedways more than 2.5 miles in length on down to a mile around. There are road courses, the twisting turns and elevation changes giving drivers something different to consider.
But what separates Winston Cup drivers from the rest of the pack is the short tracks, and Martinsville Speedway is one of three that remains on the NASCAR schedule. The sport, according to Jeff Burton, who will defend his NAPA AutoCare 500 championship on Sunday, September 27, needs them to determine which driver is truly the best of the rest.
"I think it's important to have short tracks,'' said Burton, driver of the Exide Batteries Ford. "As long as the facilities keep up with the times and they can put enough people in the seats, and it's a good race on television and a good race in person, then short track races have a place in Winston Cup racing.
"Martinsville is a track that's always kept up. They're continually upgrading the facilities."
The only dimension missing from Winston Cup racing is dirt, which went the way of the dodo bird in 1968 after a show in Raleigh, N.C. That was only a year after Burton was born in South Boston, Va., and a full quarter-century before he made his Winston Cup debut in a car owned by Filbert Martocci.
Martinsville Speedway started out as a dirt track when it opened in 1947, then changed to asphalt by late 1955. That was one of the many alterations the speedway has seen through the decades.
Martinsville is Burton's "home'' Winston Cup track. He ran Late Model Stock races there before graduating to NASCAR's Busch Series, and made his first Winston Cup run on it in 1994 with the Stavola Brothers team. Last September, he inherited the lead with just 22 laps to go when Rusty Wallace was blackflagged for jumping a restart, and as is said in the South, "he took it the barn'' ahead of Dale Earnhardt and Bobby Hamilton.
It's an accomplishment he's proud of, not just from the response he received from the Old Dominion contingent in the crowd, but because it helped affirm his status as a well-rounded driver.
"You have to drive Martinsville completely different than you do someplace like Michigan. Being able to adjust and adapt to a different facility is important to being good everywhere we go, and that's part of what makes our kind of racing great.
"I like the competitiveness of racing at Martinsville, the uncertainty of wondering, 'Have we prepared our brakes properly? How does the driver use the brakes' -- I like all those things. You've got to save your brakes, you've got to have plenty of horsepower, and the driver's got to keep the fenders on the car. It adds another element of skill that you don't have at other race tracks, another dimension.
"I think Martinsville is a place that defines what Winston Cup racing was from years gone by, and also what's great about it today."
Editors Note: The images displayed in this article (plus many more) can be viewed in The Racing Image Galleries and the Visions of Speed Art Gallery.