---
NASCAR: Square D Racing Review/Preview
25 August 1998
Kenny Wallace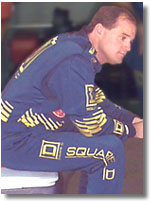 HARRISBURG, N.C., - An early exit from the Goody's Headache Powder 500 had Square D Ford driver Kenny Wallace reaching for the Goody's at Bristol (Tenn.) Motor Speedway Saturday night. The engine in his No. 81 Taurus expired on lap 227 of the 500-lap event, relegating Wallace to a 42nd place finish.
However, Wallace's evening behind the wheel of a race car was not over. With the St. Louis native out of the event, he was asked by a member from Brett Bodine's crew to relieve their driver, as Bodine was suffering from dehydration and heat exhaustion. Wallace obliged and brought the Paychex Ford home to a 26th place finish, thereby maintaining Bodine's 23rd position in the NASCAR Winston Cup point standings.
The Jiffy Lube 300 at New Hampshire International Speedway was where Square D Ford driver Kenny Wallace scored his fourth top-10 of the 1998 season by stretching his fuel mileage to the very end of the race. Crew chief Newt Moore rolled the dice that the No. 81 Taurus could finish the remaining 98 laps without needing another pit stop for fuel. The strategy worked - for the most part. With just three laps to go and with Wallace running ninth, the engine in the No. 81 Taurus began to sputter.
"I was running at half-throttle for the last two or three laps," said Wallace. "But when the engine started to sputter, I knew I had to give up ninth to (Ken) Schrader as he was only a straightaway behind me. I finally ran out of gas on the last lap going down the back straightaway. I kicked it into neutral, and with no power steering I drove through turns three and four without hitting the brakes, because that would've slowed me down too much. I ran up in the marbles and thought, 'Well, I've at least got 10th,' until I looked in my mirror and saw Bobby Labonte coming at me at what seemed like 200 mph. He ended up missing me and I hung on to 10th."
The Square D Ford was not the victim of a fuel mileage miscue, instead the fuel pickup tube located within the fuel cell had moved during the course of the race, and therefore wasn't able to collect the remaining fuel at the bottom of the cell.
"We still had a great run at Loudon," said Wallace. "It's like anything else. When you jump something 10 feet, the next time you want to jump it 11 feet. When we go back to New Hampshire for the CMT 300, we want a top-five."
Editors Note: The images displayed in this article (plus many more) can be viewed in The Racing Image Galleries and the Visions of Speed Art Gallery.