---
The Callahan Report: Martin Wins Bristol; Championship Heating Up
22 August 1998
Mark Martin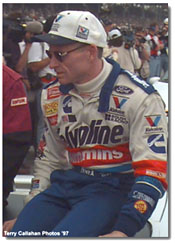 BRISTOL, TN:
This championship run is not over yet. Mark Martin drove a flawless race Saturday night. His artful driving display landed him in victory lane when the checkered flag fell on the Goody's Headache Powders 500 at Bristol Motor Speedway. A bigger benefit was the chunk he took out of Jeff Gordon's NASCAR Winston Cup point lead.
For the first time in five races, Martin was able to close the gap on Gordon. He had been losing ten points a race to the defending Winston Cup champion. Martin reversed that scenario Saturday by leading the most laps and winning the race. Gordon wound up in fifth place and never led a lap.
Under NASCAR rules, the driver who leads the most laps in a race receives five bonus points. Any driver who leads a lap also gets five points. Those additional ten points, combined with the difference between the points awarded for first place and fifth place, allowed Martin to cut Gordon's point lead from 97 points to 67 points.
Martin's victory came two weeks after his father, Julian Martin, was killed in a private plane crash in Nevada. Julian's wife and daughter were also killed in the crash. Martin proudly dedicated the Bristol victory to them. It was Martin's fifth win of the season and the 27th of his career.
Gordon was attempting to set a modern era record at Bristol. If he could have won the Goody's Headache Powders 500, he would have been the only driver since 1972 who had won five races in a row. He was never close to breaking that record Saturday night. In fact, Gordon had another string broken at Bristol. Gordon had led at least one lap in fourteen consecutive races. Gordon never led Saturday night. He was a half a lap behind Martin at the finish.

Jeff Gordon
Martin wasn't the only driver who had Gordon's number at Bristol. Jeff Burton, Martin's teammate, finished in second place. Burton charged from deep in the field to give Roush Racing a one-two finish. Burton could not chase down Martin at the end. Martin won by more than 2 seconds.
Rusty Wallace has always been a threat when the NASCAR stars head to Bristol. He put on another amazing show this time. Wallace started from the pole, but had brake problems that sent him back to 39th place early in the race. Wallace persevered and wound up finishing in third place.
The strength of Wallace's car was obvious. There was another Ford Taurus that was prepared identically to his. Jeremy Mayfield, Wallace's teammate, was leading and pulling away in the race. Mayfield spun while leading and was never in contention again.
Dale Jarrett was able to gain some ground on Gordon at Bristol. Jarrett finished in fourth place, easily holding off NASCAR's biggest star. Jarrett was the defending champion of the Goody's Headache Powders 500.
Although Gordon didn't achieve the goal of setting the record for the most consecutive victories, he did drive a smart race. Gordon was able to finish a race that is known for taking out innocent victims. Gordon, Martin, and Jarrett will continue the battle to the end. Last year, the same three drivers raced to the final flag before the championship was decided. It looks like NASCAR fans can gear up for the same kind of battle in 98.
The 140,000 fans on hand saw a typical exciting night-time NASCAR race. It was filled with daring "bump" passes and plenty of wrinkled sheet metal. It is the kind of racing that has made NASCAR Winston Cup America's top racing series.
Editors Note: The images displayed in this article (plus many more) can be viewed in The Racing Image Galleries and the Visions of Speed Art Gallery.