---
NASCAR BGN: Tony Stewart and Shell Team Hungry for Victory
21 August 1998
FOOD CITY 250 AT BRISTOL MOTOR SPEEDWAY COULD SET THE PERFECT TABLE
Tony Stewart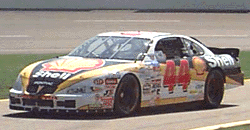 BRISTOL, TN - Tony Stewart and the Shell Team are hungry to score their first NASCAR Busch Grand National Series victory. The August 21 Food City 250 at Bristol Motor Speedway could set the perfect table for a feast in victory lane.
"I'm ready to get the Shell Pontiac to the winner's circle," stated Stewart. "Our finishing positions don't reflect how well the Shell Team has performed. Take my last race at Indianapolis, for instance. We didn't qualify as well as we would have liked, but we were working on a good race rhythm, just picking and choosing our way through the field. My crew gained us five spots on the track with superb pit work during the first stop. The Shell Pontiac was working great and we were headed to the front but got caught up in a racing incident. The Shell crew kept us on the lead lap and we were able to finish 12th, but we had a top-five or better car. Instead of letting it get us down, this Shell team is more determined than ever to get to victory lane."
Stewart, who began his career racing night after night on short tracks around the country, is optimistic about the team's chances at Bristol.
"Bryant (Frazier, crew chief) and the guys gave me a good car for the Bristol spring race," Stewart continued. "I am confident we will unload with a solid set-up, ready to run the night race. Racing under the lights at Bristol is the ultimate. I enjoy night racing. This weekend would be the perfect scenario for me to give Shell and Joe Gibbs Racing my first Busch win."
Shell Oil Company is one of America's leading oil and natural gas producers, manufacturers, transporters and marketers of oil and chemical products. It is a recognized pioneer in technology for oil and gas exploration and the largest gasoline marketer in the United States. Headquartered in Houston, Texas, Shell Oil is an affiliate of the Royal Dutch/Shell Group of Companies.
The Food City 250 is scheduled for Friday, August 21 at 7:30 p.m. (ET). ESPN will provide live television coverage for the event and PRN Radio will broadcast the race live to over 200 affiliate stations nationwide.
Editors Note: The images displayed in this article (plus many more) can be viewed in The Racing Image Galleries and the Visions of Speed Art Gallery.