---
NASCAR WCUP: Bristol has been Good to Kenny Wallace
19 August 1998
Kenny Wallace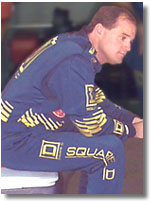 HARRISBURG, N.C., - Typically, Bristol (Tenn.) Motor Speedway has been good to Square D Ford driver Kenny Wallace. After all, he has one Winston Cup pole, which came at last year's August event, one Busch Series, Grand National Division pole (1992 Food City 250) and one Busch Series win (1994 Food City 250). But lately, the tight and fast .533-mile bullring has proved to be more of a nemesis to Wallace than a friend, as the St. Louis native has experienced three DNFs in his last three Bristol starts.
"We've always been known to run well at Bristol," said Wallace, "but lately that hasn't been the case. We've either wrecked or had some kind of mechanical problem.
"After Indy, we tested at Bristol for two days (Aug. 3-4) and really worked hard on our race setup. We made some qualifying runs too, but we really focused on getting our chassis setup balanced for the race. I'm happy with the car that we took to the test and I'm happy with its setup."
The car that FILMAR Racing tested in preparation for the Goody's Headache Powder 500 will be without its familiar blue and yellow colors. Instead, black paint will adorn the No. 81 Taurus as the lightning bolt paint scheme from the Bud Shootout at Daytona (Fla.) International Speedway returns. Some subtle changes to the lightning bolt design have occurred since it was first seen at Daytona. The Square D "energy bars" at the bottom of the car are gone, as is the red paint. Additionally, the lightning bolts have been made to be reflective, which should provide fans with an interesting look at the Square D Ford when it races under the lights in "Thunder Valley."
Following the Saturday night race, Wallace will return to his Concord, N.C., home to celebrate his 35th birthday. Last year's pole-winning run came on Wallace's birthday - Aug. 23, and no present would be better, or more coveted, than upgrading from a pole to a win at the "World's Fastest Half-Mile."
Editors Note: The images displayed in this article (plus many more) can be viewed in The Racing Image Galleries and the Visions of Speed Art Gallery.