---
NASCAR-WCUP: Pressley Learns More About Road Course
12 August 1998
Robert Pressley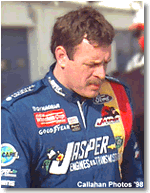 (Watkins Glen, NY) -- Robert Pressley and the Jasper Engines Team had a better feeling for Sundays annual running of the Bud at the Glen right off the bat this week. We struggled at Sears Point earlier this year and Robert took it upon himself to try to improve the performance of the team on the road courses. He attended the Bob Boundrant School of Road Racing, as many of the Winston Cup drivers have done previously. One of the most recent is one of Roberts good friends Rick Mast. Roberts improvement was evident early.
After struggling in qualifying at Sears Point (starting 36th the last to get in on speed), we made first day qualifying here in New York. We started in the 24th position and was a real morale booster for the team.
The first caution of the day was on lap eight as the 97 and 30 cars got together. Fatback the Jasper Engines and Transmissions Crew Chief radioed Robert and asked Hows the car Buddy? RP replied that the Jasper Transmission is really good.
The brakes began to heat up, as the race went on, and Robert could not drive the car as hard as he would have liked. As the radio conversations went on between driver, crew chief and car owners to try to decide what to do to correct the problem, the decision was clear try to conserve said car owner Mark Harrah. Try to conserve everything that we can fuel, tires and brakes.
Robert did just that and avoided trouble as well. The Jasper Engines Team took the checkered flag in the 29th position. The school bell rang with lessons learned and notes taken. The next trip to a road course could see Robert as the professor and not a student.
Editors Note: The images displayed in this article (plus many more) can be viewed in The Racing Image Galleries and the Visions of Speed Art Gallery.