---
The Callahan Report: Franchitti Earns Third Pole of Season at Mid-Ohio
8 August 1998
Dario Franchitti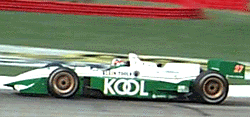 LEXINGTON, OH:
When Dario Franchitti signed with team KOOL/Green for 1998 he said, "For me to leave Mercedes was the most difficult decision of my life."
That decision seemed to be a good one for the talented lad from Scotland Saturday. He captured the pole position for Sunday's Miller Lite 200 with Honda power behind him. Franchitti, along with five other drivers, shattered the old track record set by Bryan Herta last year. It is nothing new for the Mid-Ohio Sports Car Course record to be broken. It has happened nine years in a row. Franchitti's pole winning speed was 123.766 mph.
This is the third time this season that Franchitti has won the pole. Franchitti won the pole in Toronto last month. He led every lap until he spun on his own late in the race. Franchitti is eligible to win the Marlboro bonus money if he can win the race from the pole. The cash award now stands at $310,000. The pole winner is the only driver eligible to win the Marlboro bonus money.
After his qualifying run, Franchitti said, "That was all we had on the last lap. I didn't think really we had the answer here." He continued, "It was just a matter of putting it all together on one lap. It's a very difficult track where the car is good in some corners and not so good in others. But we did it."
The Target/Chip Ganassi team also has a car on the front row. Alex Zanardi was expected to perform well during qualifying. He has won the last two races held at Mid-Ohio. However, Jimmy Vasser, Zanardi's teammate and 1996 PPG Cup Winner, captured the other front row spot. Vasser posted a speed of 123.474 mph. Zanardi could do no better than thirteenth quickest in his qualifying efforts.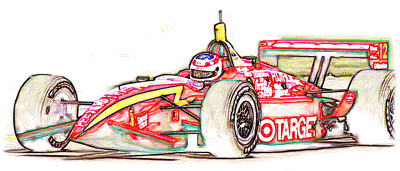 Jimmy Vasser
Vasser said, "I'm pretty happy just to be in the front row. I would have liked to have a shot at that money, but instead I'll have to make sure he (Franchitti) doesn't get it."
Bryan Herta, who was quickest in every practice session and was the provisional pole sitter from Friday's qualifying round, would up third fastest in the final round Saturday. Herta mounted a charge late in the session but slid off the course. He settled for a qualifying speed of 123.420 mph.
Herta and his boss, Bobby Rahal, have been surrounded by local media at Mid-Ohio. The 2.25 mile road course is a mere sixty miles from the Team Rahal race shops in Hilliard Ohio. Mid- Ohio has long been considered to be the home track for Herta and Rahal. The attention is more intense this year. Rahal announced earlier this year that 1998 would be his final season in the cockpit. He will be concentrating his attention of his many business interests in the future. Rahal will start the Miller Lite 200 from the sixteenth position.
Rahal commented about his last ride at Mid-Ohio, saying "It's going to be unbelievable. I'm not sure if I'm going to choke up, but I''m very appreciative of everything that's happened to me."
Mauricio Gugelmin was fourth fastest while Adrian Fernandez, the polesitter in Michigan, qualified fifth. He was followed by Greg Moore in the Player's Reynard Mercedes. Other drivers in the top ten were Al Unser Jr., Mark Blundell, Patrick Carpentier and Michael Andretti.
The Miller Lite 200 CART FedEx Championship race will get underway at 2:00 p.m. Sunday.
1. Dario Franchitti, Honda, 123.766
2. Jimmy Vasser, Honda, 123.474
3. Bryan Herta, Ford, 123.420
4. Mauricio Gugelmin, Mercedes, 123.158
5. Adrian Fernandez, Ford, 123.031
6. Greg Moore, Mercedes, 122.981
7. Al Unser Jr., Mercedes, 122.729
8. Mark Blundell, Mercedes, 122.473
9. Patrick Carpentier, Mercedes, 122.376
10. Michael Andretti, Ford, 122.374
11. Scott Pruett, Ford, 122.366
12. Gil de Ferran, Honda, 122.342
13. Alex Zanardi, Honda, 122.274
14. Andre Ribeiro, Mercedes, 122.236
15. Richie Hearn, Ford, 122.078
16. Bobby Rahal, Ford, 121.762
17. J.J. Lehto, Mercedes, 121.592
18. Tony Kanaan, Honda, 121.483
19. Christian Fittipaldi, Ford, 121.275
20. Helio Castro-Neves, Mercedes, 120.828
21. Paul Tracy, Honda, 120.584
22. Michel Jourdain Jr., Ford Cosworth, 120.213
23. Gualter Salles, Ford Cosworth, 119.991
24. Max Papis, Toyota, 119.949
25. Robby Gordon, Toyota, 119.201
26. Alex Barron, Toyota, 118.556
27. Arnd Meier, Ford Cosworth, 117.662
28. P.J. Jones, Toyota, 117.633
Editors Note: The images displayed in this article (plus many more) can be viewed in The Racing Image Galleries and the Visions of Speed Art Gallery.