---
PSCR: Steve Knapp Tests with Panoz Motorsports
5 August 1998
Steve Knapp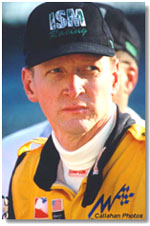 BRASELTON, Georgia, -- Steve Knapp, third-place finisher and Rookie of the Year at the 1998 Indianapolis 500, tested the Visteon Panoz GTR-1 at Road Atlanta last week.
He described the experience with one word, "Awesome."
"We're looking at giving a number of young drivers the chance to try the Visteon Panoz GTR-1," says Tony Dowe, Managing Director, Panoz Motor Sports. "Steve did an excellent job in his inaugural test of the car."
Knapp, 33, drives the #18 PDM Racing G-Force/Aurora in the Indy Racing League.
Knapp started out as a Formula Vee pilot in 1982. In 1986, he was the SCCA National Sports 2000 Champion, and in 1986 and 1987 was S2000 Pro Series Champion. Steve captured the US Formula Ford 2000 Pro Series National Championship in 1996, winning four of the final five events. In 1997, Knapp moved to the KOOL/Toyota Atlantic Series, placing sixth in the final standings, with seven top-ten finishes.
Knapp is also an engine builder. In 1982, he began to build Formula Vee engines, and built many championship-winning FV engines over the years. He began worked for Carl Haas in 1991, running Mario and Michael Andretti's Indy Car Development and Test team. Currently, Knapp and his wife Bobbi own Elite Engines, a company in Antioch, Illinois, that builds engines for many SCCA teams and competitors.
Editors Note: The images displayed in this article (plus many more) can be viewed in The Racing Image Galleries and the Visions of Speed Art Gallery.