---
NASCAR: Yates Banks on Future Success with Rookie Standout Irwin
1 August 1998
Kenny Irwin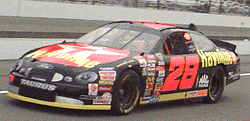 INDIANAPOLIS, -- Veteran car owner Robert Yates took a gamble last August and signed rookie Kenny Irwin Jr. to drive the famed No. 28 Texaco/Havoline Ford. Nearly a year later, it may be starting to pay dividends.
Irwin Jr. received a $5,000 check Friday as the fastest rookie qualifier for the fifth annual Brickyard 400 at the Indianapolis Motor Speedway. He averaged 178.260 mph, which was topped only by pole sitter Ernie Irvan, the driver he replaced, teammate Dale Jarrett and fellow Hoosier Jeff Gordon.
All this happened in Irwin's hometown, where he grew up trying to fulfill the dream of his father that he drive in the Indianapolis 500.
"I wished I'd had this last night," Irwin said jokingly when handed a bottle of champagne along with his check.
Besides Irvan, another prior great driver of the car Irwin now drives was the late Davey Allison. Irwin, who drove in the NASCAR Craftsman Truck Series in 1997, was a surprise selection to step into one of the top cars on the NASCAR Winston Cup circuit because most of his earlier racing experience came in USAC open-wheel cars.
"I took a lot of aches in the stomach, because I knew it would be tough," Yates said about choosing Irwin.
"I knew it wasn't the easiest road to go, and probably from my age and where I am I probably would have said, 'This is going to be awfully tough,' because I've had the experiences of doing that. Our younger guys, hey, they thought it was a good time to invest in our company, in our business, with the 28 car.
"We've had some real good times and some down times, but we've got a sponsor who's been with us for 10 years, and they said, 'We can invest.' You know, they've got big oil wells, and they don't start producing right away. So maybe they'll understand that rookies and race cars don't start producing the first week or the first year."
Irwin, five days short of his 29th birthday, has one top five finish in 17 races this season, winning $791,147. He started second and placed eighth in his Winston Cup debut Sept. 6, 1997 at Richmond, Va.
Yates said Irwin has the stuff it takes to become successful in Winston Cup racing. He graded Irwin an "A" for his driving but feels the team isn't going to the same school at the moment in regard to communication.
"It certainly helps when the driver understands the physics of these things," Yates said. "We're not allowed to put computers in here when we're testing and practicing. It's so important that that driver can give you good feedback."
He noted that the team is running almost everyday of the week and the mechanics and driver are learning. But many of the crew lack extended experience, so the team shouldn't expect too much from itself, Yates said. But Yates expects the team to jell soon, delivering victories.
"We're anxious," Yates said. "We're a little bit impatient. We're probably a little bit greedy, but we want to win some races and get going here. That gives us a pretty good spark to get qualified good now if we can get dialed in for the race.
"We want to be racing in that top 10 every week. We hit it some weeks, but we've been off some weeks." Yates was impressed that Irwin snatched fourth in the lineup in his first time driving at the legendary track other than testing. Irwin accomplished this feat against teams which, in Yates' words, brought their best stuff here.
Yates said his plan and hope is that Irwin will reach the status of his elite predecessors Allison and Irvan.
"Not everybody makes it, but I think what people have seen from Kenny he's going to make it in this sport," said Yates, whose drivers have won 37 races and passed the $20 million mark in earning two races ago. "He's here to stay whether we make it in the 28 car or not, so we only hope that's the car he's going to be in."
Editors Note: The images displayed in this article (plus many more) can be viewed in The Racing Image Galleries and the Visions of Speed Art Gallery.