---
NASCAR-WCUP: Gordon Wants More Indy Magic
31 July 1998
INDIANAPOLIS -- Rewind to August 1994. The place was Indianapolis Motor Speedway, and the moment was the inaugural Brickyard 400, the most widely anticipated Winston Cup Series race in the 50-year history of NASCAR.
Jeff Gordon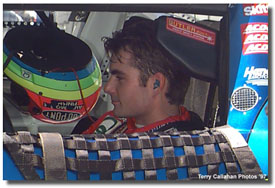 Jeff Gordon, the 1993 Winston Cup rookie of the year, outfought veterans Ernie Irvan and Rusty Wallace to claim the first-place trophy and launch a racing career that continues to blossom and flourish.
That day had a fairy tale story line to it since Gordon lived in the Indianapolis area as a teen-ager in pursuit of a racing career. He confessed to sneaking out of school to watch qualifying and practice sessions leading up to the Indianapolis 500.
Five years after his magical win, Gordon now has 34 career victories, two NASCAR Winston Cup championships and will enter the gates of Indianapolis Motor Speedway this week leading the Winston Cup point standings.
And by virtue of his Coca-Cola 600 victory in May at Charlotte Motor Speedway, Gordon is eligible for a $1 million bonus should he bag his second Brickyard 400 title.
Gordon, who drives the DuPont Chevrolet from the Rick Hendrick Motorsports camp, says the famed 2.5-mile course holds a special place in his heart.
"Indianapolis Motor Speedway means a couple of things to me," said Gordon. "Certainly, I'll never forget the inaugural Brickyard 400, going there and winning, and seeing the reaction from the crowd. And going back there and getting a positive reaction from the fans is great.
"At the same time, Indy means a very tough racetrack, a hard track to win on, and one I haven't been close to winning on since that race. There's a lot of things that I'll never forget about that track because of 1994.
"At the same time, there's things I do want to forget. I've hit the wall there pretty hard once or twice. I've had some exciting moments. That track brings out the best in me. I really get pumped up and excited about running well."
Since Gordon's victory in 1994, Dale Earnhardt, Dale Jarrett and Ricky Rudd have won the Brickyard 400. All four drivers make no secret they'd like to be the first two-time Brickyard 400 winner.
"I'm thrilled to have won the first one," said Gordon, now a multimillionaire and national celebrity. "Now I'm starting to think about what it would be like to win two. You just don't know how many opportunities that will come around that you have a good race car there."
Gordon is coming off a dominating victory at Pocono International Raceway on July 26. Drivers say that while the courses are shaped differently -- Pocono is a triangle while Indy is a rectangle -- they drive the same because of long straightaways and flat turns.
Still, competitors say Indianapolis is tougher than Pocono, and the pressure is enormous. IMS expects a full house, and media from all over the world. Plus, there's that million-dollar carrot Gordon is chasing. Ray Evernham, Gordon's crew chief, said he and the crew, called the "Rainbow Warriors," are up for the challenge.
"There's a great amount of history there," said Evernham. "What it means to me, well, it's a tough racetrack. As a crew chief, it's a tough, tough place. You got to be spot on. The place is so smooth, a textbook-like surface, but it's very tough, weather cloudwise.
"If you're off a little bit, then time-wise, you're off a lot. It's a big challenge. It always puts a little extra pressure on you going to Indy. I don't feel like I got it figured out. We've run good there, so I'm a little intimidated by it. So I'm going to study really hard and work real hard."
The team will have the momentum going into the Brickyard, thanks to Gordon's convincing victory at Pocono. "Going to Indianapolis, our chances are good," Gordon said. "We had a pretty good test there, and after seeing what kind of race we had (at Pocono) it's certainly promising for something maybe we can bring to Indy.
"It's a different track. It's definitely a lot different. I think you're going to see more that are running really strong. We hope we can be as competitive as we were here. I don't expect to be quite as competitive."
BRICKYARD 400 NOTEBOOK
Event schedule: The fifth annual Brickyard 400 starts at 12:15 p.m. (CDT) Aug. 1. Pole Day qualifying starts at 1:30 p.m. July 30. Qualifying for starting positions 26-36 begins at noon July 31.
The first practice session will take place from 1-5 p.m. (CDT) July 29. Practice continues from 9:30 a.m.-noon and 4-4:45 p.m. July 30. Final practice occurs from 3:30-4:30 p.m. July 31.
***
Broadcast schedule: The Brickyard 400 will be broadcast live on ABC and the IMS Radio Network at 1 p.m. (EDT) Aug. 1. ESPN's "On The Grid" prerace show starts at noon (EDT) Aug. 1, while the IMS Radio Network prerace show starts at 12:30 p.m. Aug. 1.
ESPN will televise Pole Day live from 2:30-4 p.m. July 30. ESPN2 will offer live Pole Day coverage from 4-5 p.m. July 30 and live second-day qualifying from 1-2 p.m. July 31.
The IMS Radio Network will broadcast live on Pole Day from 2-4 p.m. July 30. Qualification wrap-up shows will be broadcast from 6-6:30 p.m. July 30-31, with hourly reports both days starting at 11:15 a.m. The "Brickyard Live" show will be broadcast from 9-10 p.m. July 29-30.
ESPN and ESPN2 also will provide thorough coverage of Brickyard 400 practice and race previews July 29-31. Practices will be shown on ESPN2 from 2-4 p.m. and 4:30-6:30 p.m. July 29, and 6-7 p.m. July 31. The "Before They Go Green" preview will be shown on ESPN from 7:30-8:30 p.m. July 31.
Editors Note: The images displayed in this article (plus many more) can be viewed in The Racing Image Galleries and the Visions of Speed Art Gallery.