---
Brickyard 400: Gordon Leads the Way in Early Pole Day Practice
30 July 1998
Jeff Gordon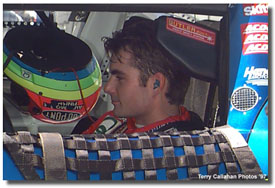 INDIANAPOLIS:
Jeff Gordon is feeling right at home in Indianapolis. The defending Winston Cup Champions led the way in early morning practice for the fifth annual Brickyard 400. Gordon posted a top speed of 178.581 mph in his number 24 DuPont Monte Carlo. Gordon is the favorite for the coveted pole. He is known for starting up front at the Brickyard.
Jeremy Mayfield was second fastest in the morning round. Mayfield continues to chase Jeff Gordon in the Winston Cup Points. That battle is heating up at Indy as well. Gordon and Mayfield are two of the youngest and brightest stars on the NASCAR Winton Cup Scene.
Ernie Irvan captured the pole for last year's running of the Brickyard 400. He remembers how he did it. Irvan drove a Ford last year. He is in the Skittles Pontiac in 1998. The type of chassis he drives doesn't seem to matter. Irvan was third quick in the morning session with a speed of 177.897 mph.
The Robert Yates Team was also in the top ten. Kenny Irwin, a native of Indianapolis, brought cheers from the crowd as he was the first driver to top the 177 mph barrier early in the morning. His Yates teammate, Dale Jarrett was right behind the talented rookie. Both drivers are expected to start up front for Saturday's race.
All the hot laps in the early warm-up may be for nothing. Dark clouds have moved into the Indianapolis area. Sprinkles began to fall just before noon. Qualifying is scheduled to begin at 1:00 p.m. EST.
Editors Note: The images displayed in this article (plus many more) can be viewed in The Racing Image Galleries and the Visions of Speed Art Gallery.