---
Brickyard 400: Wallace Seeks Revenge at Indianapolis
30 July 1998
INDIANAPOLIS, -- In the first three Brickyard 400s, Rusty Wallace finished fourth, second and seventh. Then came 1997 and one of the most forgettable weeks of his illustrious stock-car racing career. He failed to qualify, took a provisional, started 43rd and finished a dismal 38th.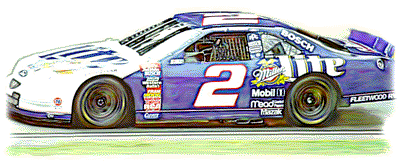 Rusty Wallace
"Last year here was a real embarrassing moment," said Wallace, winner of 47 races and the 1989 NASCAR Winston Cup Series championship.
"We had a lot of problems with qualifying. I took one (provisional) at Michigan, I took one at Charlotte and one here, the big tracks. We couldn't get the qualifying stuff worked out."
Wallace is back this week and hopes to gain some vengeance in the fifth annual Brickyard 400. He was quick in testing earlier this month and should be among the elite drivers shooting for the Bud Pole Thursday. Already this season, Wallace has driven his Miller Lite Ford to two poles and nine top-five finishes while winning $1,352,080.
Wallace said it is frustrating that he hasn't won the Brickyard yet. He pointed out that in 1996 he led right up to the end only to wind up second.
"It's a good one to win," he said. "We've had a great test session here. Our speeds are real good. We're part of the No Bull 5 program that gets the extra million dollars. And that's on my mind.
"And above all, my first victory is on my mind."
Wallace could more than double his 1998 earnings by taking the checkered flag in Saturday's Winston Cup event. He would collect close to $600,000 for the victory along with the $1 million bonus offered by R.J. Reynolds Tobacco Co. Others eligible for the bonus are Jeff Gordon, Mark Martin, Dale Jarrett and Bobby Labonte.
The most Wallace has ever won in a single season was $2,247,950 in his championship season.
Wallace is winless since taking the checkered flag March 2, 1997 at Richmond, Va. That's a dry spell of 47 consecutive races.
"We've had a lot of second-place finishes this year, a ton of top fives, led just a ton of laps, but right there at the end something slips by," said Wallace, who shares car ownership with Roger Penske and Don Miller.
"This one would be a great one to get it at. From the test speeds we showed a month ago, I believe we can do it."
Wallace worked on race setups around the showers that delayed practice Wednesday, then turned to getting the car ready for qualifications. A strong qualifying engine will be installed overnight.
Wallace, a St. Louis native, thinks the decision to become a two-car team has helped improve his performances this season. The Kranefuss team with driver Jeremy Mayfield joined the Penske operation. Now both drivers are in the thick of the points race with Mayfield fourth and Wallace fifth.
"Qualifying has taken a big turn, and that's where the two-car team effort really showed up," Wallace said. "We've been bouncing a lot of stuff off myself and Jeremy, ideas on what to do in qualifying. We've really stepped up our qualifying effort."
He noted that the teams have learned how to rework the shock absorbers and how to set the chassis up for qualifying. He also credited the advancement in performance to the move to the new Ford Taurus, which caused the mechanics to throw out old ways of thinking during preseason testing.
"We ended up changing everything," he said. "Because we changed everything changed for us this year." Wallace added that Mayfield is a perfect teammate.
Again, Gordon, who won the inaugural Brickyard in 1994, comes to Indy as the favorite. He leads the Winston Cup standings and won the last race at Pocono. Wallace chuckles when asked how frustrating it has become to always chase Gordon.
"That's a little bit frustrating," he said. "Everybody goes through this stage in life where they have the dominant car. I did that in '88-89, and everybody was aggravated and frustrated with me. And that's what's going on with him now. They've got the whole thing together so they set a standard out there, and it's up to us to outrun them and beat them."
BRICKYARD 400 NOTEBOOK
Event schedule: The fifth annual Brickyard 400 starts at 12:15 p.m. (CDT) Aug. 1. Pole Day qualifying starts at 1:30 p.m. July 30. Qualifying for starting positions 26-36 begins at noon July 31.
Broadcast schedule: The Brickyard 400 will be broadcast live on ABC and the IMS Radio Network at 1 p.m. (EDT) Aug. 1. ESPN's "On The Grid" prerace show starts at noon (EDT) Aug. 1, while the IMS Radio Network prerace show starts at 12:30 p.m.. Aug. 1.
ESPN will televise Pole Day live from 2:30-4 p.m. July 30. ESPN2 will offer live Pole Day coverage from 4-5 p.m. July 30 and live second-day qualifying from 1-2 p.m. July 31.
The IMS Radio Network will broadcast live on Pole Day from 2-4 p.m. July 30. Qualification wrap-up shows will be broadcast from 6-6:30 p.m. July 30-31, with hourly reports both days starting at 11:15 a.m.
ESPN and ESPN2 also will provide thorough coverage of Brickyard 400 practice and race previews July 31. Practices will be shown on ESPN2 from 6-7 p.m. July 31. The "Before They Go Green" preview will be shown on ESPN from 7:30-8:30 p.m. July 31.
Editors Note: The images displayed in this article (plus many more) can be viewed in The Racing Image Galleries and the Visions of Speed Art Gallery.