---
The Callahan Report: Martin Fastest in Practice for Brickyard 400
29 July 1998
Mark Martin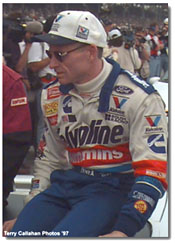 INDIANAPOLIS:
Displaying new colors, Mark Martin led the way during the opening round of practice for the 1998 Brickyard 400. Martin was the fastest of fifty-one drivers participating in practice on Wednesday. He posted a top lap of 175.816 mph in his Valvoline Ford Taurus.
Martin's car is sporting a new reflective gold paint job for the Brickyard 400. The new paint is part of the promotion of Valvoline's new SynPower line of synthetic products. The paint scheme was scheduled to be unveiled during the Pepsi 400 night race July 4 in Daytona. The Pepsi 400 was postponed due to wildfires in the Daytona area.
Dale Jarrett, also in a Ford Taurus, was the second fastest for the day with a speed of 175.778 mph. Jarrett posted his top speed in just nine laps of practice. Martin made only 12 circuits around the track.
Ricky Craven

Ricky Craven continues to excel after returning to the track three weeks ago. Craven was sidelined due to post concussion syndrome. Craven was the fastest Chevrolet driver with a speed of 175.730 mph.
An un-forecasted mid-afternoon rain shower halted the practice session for more than an hour. Heavy rains fell, drenching the famous 2.5 mile oval. There is a chance of rain Thursday, Friday and Saturday.
Practice will resume Thursday morning followed by the first round of qualifications. Only the top twenty-five speeds are "locked" in for the race. Those outside the top twenty-five will attempt to improve their speeds Friday.
Also on the agenda for Friday is the final round of the True Value International Race of Champions (IROC). The series features drivers from NASCAR, CART, Trans-Am, and the IRL. The drivers compete in identically prepared Pontiac Firebirds. Twelve of the world's greatest drivers will battle it out Friday.
The fifth annual running of the Brickyard 400 will be contested Saturday. Live television coverage will be provided by ABC television.
Five drivers will be eligible for the No Bull 5 Million Dollar Bonus award Saturday. Jeff Gordon, Mark Martin, Dale Jarrett, Rusty Wallace or Bobby Labonte will win $1 million if they can win the Brickyard 400. They became eligible for the bonus by finishing in the top five at the Coca-Cola 600 in May.
Wednesday's Top Ten:
1. Mark Martin (175.816)
2. Dale Jarrett (175.778)
3. Ricky Craven (175.730)
4. Joe Nemecheck (175.298)
5. Jimmy Spencer (175.258)
6. Ward Burton (175.159)
7. Ricky Rudd (175.111)
8. Jeff Gordon (175.107)
9. John Andretti (175.080)
10. Jeremy Mayfield (175.012)
Editors Note: The images displayed in this article (plus many more) can be viewed in The Racing Image Galleries and the Visions of Speed Art Gallery.