---
NASCAR: John Andretti Continues Love Affair with Speedway
21 July 1998
John Andretti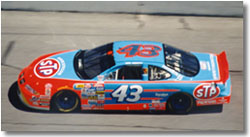 INDIANAPOLIS, - NASCAR Winston Cup driver John Andretti is a history buff. But it isn't explorations, discoveries or wars that he specializes in. His love affair is with the lore of the Indianapolis Motor Speedway.
While other stock car drivers who have tested this July at the track for the Brickyard 400 on Aug. 1 have paid tribute to the history of the Speedway, it's safe to say that few, if any, care as deeply about the historic, 2.5-mile oval as Andretti. He counts every minute in the garages or on the racing surface in his Richard Petty-owned STP Pontiac as something special.
Andretti has driven at Indy in both an Indy-style car and a stock car. The closest he has come to victory was fifth in the 1991 Indy 500 and 12th in the 1995 Brickyard 400. He has driven in the "500" seven times and seeks his fifth straight start in the Brickyard.
His primary goal in life is winning at the Speedway.
"Probably more than anybody else here," he said.
"I've lived here basically my entire life. I went to school here, I met my wife here. I mean, Indianapolis is just everything. Just getting to be here in the garages just feels good. Even if I'm not running real good, I just love being here. But I want to win this race really bad, and I still want to win the Indy 500.
"I don't buy all this that it ain't the race it used to be. I buy the fact it's still the Indy 500. They still put your face on the Borg-Warner (Trophy) like they always have. And I think that to me is important."
Andretti, whose Uncle Mario won the 1969 Indy 500 and cousins Michael and Jeff also have driven in the 500, feels there are many drivers facing a difficult situation because they want to race at Indy but compete in other series.
"It doesn't pay to take someone away from something simply because the Speedway is bigger than any one individual," Andretti said. "I don't think anybody can debate that, really."
He points out that times do change, but the Speedway has survived changes through its 89-year history from the roadsters to the rear-engine cars, Europeans joining the starting fields and Formula One teams participating. He even points to Uncle Mario running in F1 and still working in the "500" as part of his schedule.
"It goes to show the importance of this event," John Andretti said.
Andretti holds a unique position in Indianapolis racing lore. He also drove a Top Fuel dragster in the NHRA's U.S. Nationals at Indianapolis Raceway Park over Labor Day weekend. When you add in USAC Silver Crown dirt cars, sprints and midgets, he's run the gamut of racing in Indiana. And he's driven endurance sports cars, making him one of the most versatile drivers in America.
"It's been a good list," he said. "But I'd like to become maybe the first driver to try and win the Brickyard 400 and the Indy 500. I haven't done either one, and it's a big task just to win a Winston Cup race and an Indy-car race. But it's something I think is achievable on the Winston Cup side, and I think I'm capable on the Indy-car side, too.
"I never give up on that dream. You've always got that goal and it's a big goal of mine."
Andretti has won a race in NASCAR Winston Cup and Indy-style competition. He captured the inaugural Indy-car race in Australia in 1991 and broke through in NASCAR last season by capturing the Pepsi 400 at Daytona International Speedway. He also owns a 1989 victory in the Rolex 24 Hours of Daytona.
Because of the postponement of this year's Pepsi 400 to mid-October due to the fires in Florida, Andretti now is setting another record as the longest reigning champion of an annual race.
Andretti, the 35-year-old son of Mario's twin brother, Aldo, is back driving for Richard Petty. He drove 11 races for "The King" in 1994, but has bounced around in NASCAR since. He drove for the Kranefuss-Haas team in 1995, then switched teams with Jeremy Mayfield. Last season he drove for another NASCAR legend, Cale Yarborough. He earned $1,143,725 after winning a combined $1,698,888 in his first four seasons.
"I think it's time The King gets involved with the Indianapolis 500," Andretti said with a laugh.
"What happens to me is people who come up to me who don't know the history of the Indy 500 can't appreciate what the Indy 500 is. Otherwise it's just another race. But you've got to be able to appreciate everything that is involved with it to understand what it's all about, so you can understand how special it is. "Otherwise, if you look at it as a bunch of race cars and a bunch of people, then that's all it is. But it's much more than that."
Andretti feels the same about the Brickyard 400, which is developing its own history. Testing for this year's event was furious as teams brought three, four and five cars to the track. One day 69 cars ventured onto the track for practice.
"You come here, the pressure's high because they have so many cars here, and it's such an important race," Andretti said. "I mean, yeah, the money is important, but it doesn't overwhelm the fact that here and Daytona is where you absolutely test, test, test. You just don't pass it up.
"This race carries a lot of prestige, and it's not because it pays a lot of money or there are a lot of people here, but because it is the Indianapolis Motor Speedway."
BRICKYARD 400 NOTEBOOK
Event schedule: The fifth annual Brickyard 400 starts at 12:15 p.m. (CDT) Aug. 1. Pole Day qualifying starts at 1:30 p.m. July 30. Qualifying for starting positions 26-36 begins at noon July 31.
The first practice session will take place from 1-5 p.m. (CDT) July 29. Practice continues from 9:30 a.m.-noon and 4-4:45 p.m. July 30. Final practice occurs from 3:30-4:30 p.m. July 31.
Broadcast schedule: The Brickyard 400 will be broadcast live on ABC and the IMS Radio Network at 1 p.m. (EDT) Aug. 1. ESPN's "On The Grid" prerace show starts at noon (EDT) Aug. 1, while the IMS Radio Network prerace show starts at 12:30 p.m. Aug. 1.
ESPN will televise Pole Day live from 2:30-4 p.m. July 30. ESPN2 will offer live Pole Day coverage from 4-5 p.m. July 30 and live second-day qualifying from 1-2 p.m. July 31.
The IMS Radio Network will broadcast live on Pole Day from 2-4 p.m. July 30. Qualification wrap-up shows will be broadcast from 6-6:30 p.m. July 30-31, with hourly reports both days starting at 11:15 a.m. The "Brickyard Live" show will be broadcast from 9-10 p.m. July 29-30.
ESPN and ESPN2 also will provide thorough coverage of Brickyard 400 practice and race previews July 29-31. Practices will be shown on ESPN2 from 2-4 p.m. and 4:30-6:30 p.m. July 29, and 6-7 p.m. July 31. The "Before They Go Green" preview will be shown on ESPN from 7:30-8:30 p.m. July 31.
Editors Note: The images displayed in this article (plus many more) can be viewed in The Racing Image Galleries and the Visions of Speed Art Gallery.