---
Pep Boys IRL: Champion Stewart to Try Double-Duty Next May
18 July 1998
Tony Stewart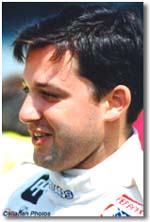 DOVER, Del., - Pep Boys Indy Racing League driver Tony Stewart is trying for a championship "double" this season and will try for another "double" next season.
Stewart won the league title last season and could back it up this year as he carries a 167-150 lead over Scott Sharp heading into the Pep Boys 400K on Sunday at Dover Downs International Speedway.
After turning the fastest practice lap of 184.455 mph in Friday's practice, Stewart assured that next May he intends to drive in both the Indianapolis 500 and the NASCAR Coca-Cola 600 at Charlotte Motor Speedway on the same day.
"Absolutely," Stewart said as he cooled off in the Dover Downs media room from the steamy outside weather conditions.
"I run two races on the same day all the time. With all the races I do, this should be right up my alley."
Only John Andretti has accomplished this feat. In 1994, he drove to 10th place at Indy, then jetted to Charlotte, started last because he missed the driver's meeting and finished 36th. Mechanic Chocolate Myers repeated the double in May 1998, working in A.J. Foyt's pit with driver Billy Boat, then hurrying to Charlotte to handle his duties in Dale Earnhardt's pit during the Coca-Cola 600.
This season, Stewart has split his time between his IRL ride in the Glidden-Menards Special G Force/Aurora/Firestone prepared by Larry Curry and crew, and his Joe Gibbs-owned Shell Pontiac tuned by Bryant Frazier in the NASCAR Busch Series.
This year in the Pep Boys IRL, Stewart won races at Orlando, Fla., and New Hampshire and poles at Orlando and Fort Worth, Texas, in five races while collecting $655,050 in prize money. He has driven in 13 NASCAR Busch races, with two seconds and a third to his credit, and one pole. His winnings there are $171,180.
Next year, Stewart will move over to a full-time schedule on the NASCAR Winston Cup circuit.
"I'm going to miss being here," he said of the Pep Boys IRL. "I have worked so long to get a stock-car ride. Now I'll only do the Indy 500. It was Joe Gibbs' idea.
"You've got to look at what my goals are. I've done everything in the IRL I can except win the Indy 500. It's hard to leave anything you're successful at. I won three championships in USAC in 1995. Don't think it wasn't hard to leave three good cars. This is just another challenge."
Stewart has no misconceptions that he'll step right into Winston Cup competition and become a dominant driver. He said anybody who thinks that should immediately make plane reservations for oblivion. But he hopes to be competitive with the help of teammate Bobby Labonte.
Stewart knows that he has much to learn about driving the heavy stock cars. He gave as an example his two spins trying to qualify in the most recent Busch race at Myrtle Beach, S.C. He wound up finishing 35th and last in the race.
"It's a hard series," he said about Winston Cup.
"I have two challenges. One is to get accepted. The second is to win races."
Stewart doesn't want to be compared to two-time NASCAR Winston Cup champion Jeff Gordon, who also cut his racing teeth on the dirt tracks of Indiana. Gordon, like Stewart, is defending champion and points leader in his series. Stewart's 27th birthday was four days before this year's "500," while Gordon will turn 27 three days after this year's Brickyard 400.
"I'm not Jeff Gordon," he responded when asked about the comparison. "I want to be Tony Stewart. I want to win races and win championships."
Editors Note: The images displayed in this article (plus many more) can be viewed in The Racing Image Galleries and the Visions of Speed Art Gallery.