---
NASCAR: Irvan Fast at Brickyard 400 Testing
17 July 1998
Ernie Irvan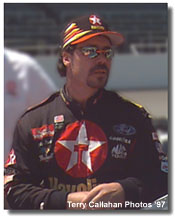 INDIANAPOLIS, -- Bearded Ernie Irvan, last year's Brickyard 400 pole sitter at 177.736 mph, turned a quick lap of 176.074 mph during NASCAR Winston Cup testing July 15 at the Indianapolis Motor Speedway. Irvan's lap was one of the fastest of the day even though he drove two cars that were not built for the Indianapolis Motor Speedway.
One of the cars was involved in a wreck earlier this year in The Winston at Charlotte Motor Speedway. He drove the other in the Coca-Cola 600 a week later at Charlotte.
"We take one car out and do engine stuff and with the other we try to go fast," said Irvan, winner of the 1991 Daytona 500. "Tomorrow we'll take the best information from the two cars and put them on one car and see how it goes. We're shaping up pretty well. We've had a full day of testing and a whole night of thinking. We're doing everything we can."
Irvan, driver of the Skittles Pontiac, called the Indianapolis Motor Speedway a superspeedway without banks.
"You do what you do at Talladega and Daytona," he said. "You try to get the car down lower."
Irvan nearly won the inaugural Brickyard in 1994, pitting for a tire change after leading near the finish. In 1996, Irvan chased Dale Jarrett across the finish line in second place. Last year he placed 10th.
"As far as me being a driver, this racetrack doesn't owe me one, I don't think that way," he said. "Of the two races I was competitive in, I should have won one of them."
***
Lake Speed


Odds and ends from July 15: Lake Speed banged the wall in the north chute with the right rear and then right front, but was able to drive the Cartoon Network Ford into the garage area. ... Bill Elliott, co-owner of the No. 13 FirstPlus Financial Ford with Miami Dolphins quarterback Dan Marino, released rookie Jerry Nadeau effective immediately. "After lengthy discussions, we evaluated our program and decided a change needed to be made," Elliott said. -- Sixty-nine cars took to the asphalt July 15, completing 2,166 laps. This is short of the 83 that practiced and recorded 2,521 laps on Aug. 5, 1994, the day before the first Brickyard 400. Rusty Wallace led the speed chase July 15 with a top lap of 177.504 mph, followed by Joe Nemechek at 177.204, Jeremy Mayfield at 176.724, Ward Burton at 176.439 and Jeff Gordon at 176.370.
***
Event schedule: The fifth annual Brickyard 400 starts at 12:15 p.m. (CDT) Aug. 1. Pole Day qualifying starts at 1:30 p.m. July 30. Qualifying for starting positions 26-36 begins at noon July 31.
The first practice session will take place from 1-5 p.m. (CDT) July 29. Practice continues from 9:30 a.m.-noon and 4-4:45 p.m. July 30. Final practice occurs from 3:30-4:30 p.m. July 31.
***
Broadcast schedule: The Brickyard 400 will be broadcast live on ABC and the IMS Radio Network at 1 p.m. (EDT) Aug. 1. ESPN's "On The Grid" prerace show starts at noon (EDT) Aug. 1, while the IMS Radio Network prerace show starts at 12:30 p.m. Aug. 1.
ESPN will televise Pole Day live from 2:30-4 p.m. July 30. ESPN2 will offer live Pole Day coverage from 4-5 p.m. July 30 and live second-day qualifying from 1-2 p.m. July 31.
The IMS Radio Network will broadcast live on Pole Day from 2-4 p.m. July 30. Qualification wrap-up shows will be broadcast from 6-6:30 p.m. July 30-31, with hourly reports both days starting at 11:15 a.m. The "Brickyard Live" show will be broadcast from 9-10 p.m. July 29-30.
ESPN and ESPN2 also will provide thorough coverage of Brickyard 400 practice and race previews July 29-31. Practices will be shown on ESPN2 from 2-4 p.m. and 4:30-6:30 p.m. July 29, and 6-7 p.m. July 31. The "Before They Go Green" preview will be shown on ESPN from 7:30-8:30 p.m. July 31.
Editors Note: The images displayed in this article (plus many more) can be viewed in The Racing Image Galleries and the Visions of Speed Art Gallery.