---
NASCAR: Kenny Wallace Continues to Post High Finishes
17 July 1998
Square D Racing Review/Preview
Kenny Wallace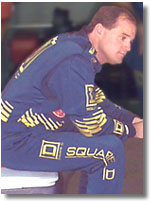 HARRISBURG, N.C., - Square D Ford driver Kenny Wallace scored a solid 10th place finish in the Jiffy Lube 300 at New Hampshire International Speedway in Loudon on Sun., July 12. It was his fourth top-10 of the season.
"Sunday was a good day for us," said Wallace. "Finally, everything went the way it should have. The guys did a great job in the pits all day, and we did a heck of a job settin' the car up."
Wallace coasted across the finish line on fumes, after having pitted for gas and tires on lap 210. With the help of a caution flag on lap 222 that lasted for seven laps, the St. Louis native conserved his fuel by feathering the throttle going into and coming out of the turns at the 1.058-mile oval. The Newt Moore-led crew had calculated the fuel mileage of the No. 81 Taurus to a tee, and their collective effort earned the Square D outfit their first top-10 finish in the last eight races on the NASCAR Winston Cup circuit.
When Square D Ford driver Kenny Wallace returns to the 2.5-mile Pocono (Pa.) Raceway for the Pennsylvania 500 on Sun., July 26, he'll have the same car with the same setup that he had just one month ago in the June running of the Pocono 500. What the 34-year-old won't have is the same engine, as a dropped valve dropped Wallace out of the June event while running in 12th place 85 laps into the race.
"Since the two Pocono race dates are so close, we just left the car alone after the first race," said Wallace. "We had a great race going for us. We were running 12th when we simply blew a motor. We'll have the same handling package under the car that we had back in the first Pocono race. We've improved our engine program in the short time since then, so we look to have another strong run."
Editors Note: The images displayed in this article (plus many more) can be viewed in The Racing Image Galleries and the Visions of Speed Art Gallery.