---
NASCAR: Waltrip's Last Ride in the #1 Pennzoil Monte Carlo
17 July 1998
Park Returns To Speed At 3-Day Indy Test
Darrell Waltrip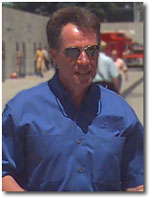 Darrell Waltrip pilots the #1 Pennzoil Monte Carlo for the final time on July 28 when he returns to Pocono International Raceway where he finished sixth in June. The Pocono race will be the only track he and his Dale Earnhardt Inc. team visit twice during their brief stint together as the three-time Winston Cup champion substitutes for the injured Steve Park. Park, who drove in a 3-day test session at Indianapolis on July 13-15, will race the Pennzoil Monte Carlo at Indianapolis when Waltrip returns to the #17 car.
Waltrip, a three-time Winston Cup champion, moved from 40th to 24th in driver points since joining the Pennzoil team at Bristol on March 29. DEI has moved from 44th to 29th in car owner standings in same time period. In the last nine races, Waltrip has scored the eighth most points of all drivers and the second most points of all Chevrolet drivers.
Chevrolet Driver Points Since Martinsville (9 races)
1. Jeff Gordon 1442
2. Darrell Waltrip 1095
3. Sterling Marlin 1083
4. Terry Labonte 1080
5. Ken Schrader 960
6. Dale Earnhardt 936
Waltrip Quotes:
Substitute Role:
"We have gotten along so well. We have good chemistry and good communication and you don't ever want to walk away from a situation like that. How many owners, how many drivers and how many crews in this garage would love to have a situation like the one we have right now? We have what people strive for and so when you get it you want to keep it together as long as you can. We aren't doing that. Well, let me say we are keeping it going as long as we can, but we can't keep it going any longer.
"It's a shame this isn't going to keep going for the year. I think I could get myself in the top ten in points and I know that we could get a victory. I wish I had that opportunity to prove myself right or not. But, we don't. That's the only downside or regret. They are getting their driver back and I'm going back to the #17. All I ever wanted in this substitution deal was for this Pennzoil team to say it is a better team than it was before DW came here. I think I have accomplished that."
Waltrip's Return to Pocono:
"I feel good about going back to Pocono because we had a good race car although we weren't quite as good as the Tauruses or Jeff Gordon. We only have to get better than five guys to win that race. I think with a little work on the car, a little work on the setup, and we do the same kind of race then I think we could find ourselves in a position to win and that is all we ask for. You have to take care of your motor and brakes there because it's real easy to wear both of them out. That and if we continue to get good pit stops and we can win that race. You haven't seen a victory lane celebration until you see me and this team celebrate in victory lane.
Waltrip's Return to #17 Car At Indy:
"It will be just like coming into this deal three months ago. I walked into the #17 shop the other day and it just looked like they did at the #1 car three months ago when I went into there. They have cars, but the bodies are cut off them and they are redoing chassis. It's a whole new group of people I hardly recognize any of them. But, it's like coming to the #1 car. I hardly knew anyone there; cars were disassembled and tore up. It's almost like going back to March and starting all over again. But, I'm good at that. I like the challenge and I'm a good teacher and a good guy to listen to. If you'll just do as I say and not as I do then we'll be OK."
Steve Park Returns For Indy Test
#1 Pennzoil Monte Carlo Driver Steve Park posted about the 19th quickest lap of the 42 drivers testing at Indianapolis on Wednesday. Park completed his 3-day test by driving more than 70 laps in two different Pennzoil Monte Carlos. On Monday and Tuesday, Park drove three cars. Park's fastest lap of 174.091 mph trailed the fastest speed set by Rusty Wallace at 177.504. Over 40 drivers logged 2,166 laps in 69 cars on Wednesday. Several teams will remain in Indianapolis to test on Thursday.
Park Quotes After Indy Test
"I told somebody that I feel like a little kid who just got his toys back! It feels good to be back in the Pennzoil Monte Carlo especially at a track like Indianapolis. This is a place I have watched on television and even visited a few times but never raced on. Man, is it smooth. This place and Las Vegas are the two smoothest tracks I've been on. It didn't take long to get back to feeling normal behind the wheel. I think maybe four or five laps and it was like I'd never been gone. I'm in better shape now than before the wreck so physically this week wasn't a problem. It was real hot there all three days and I sweated a lot but other than that there were no problems. The only problem we had this week was getting the car up to speed. We weren't bad. But, we weren't at the top of the chart.
"This track poses a dilemma. Do you want to be fast on the straight-aways or do you want to be fast in the turns? They post the front-stretch trap speeds on the timing and scoring monitor and at one point on Tuesday and Wednesday, of the top ten quickest speeds, the guy with the slowest trap times posted the fastest lap. That means cornering is critical. It seems like everyone I talked to at Indy said on their fast laps they were hanging on for dear life. You can hang a car out for a lap or two in qualifying, but there isn't any way you could run a race like that. On my quickest lap on Tuesday, I felt like Steve Kinser in a dirt car sliding around the corners. Qualifying is going to be pretty interesting when we come back here. I can't wait to race again. I have to go to Pennsylvania next Thursday for some appearances, but I don't think I will stay for the race. It's too hard to watch. I want to get back home, workout, and be ready for the Brickyard."
Editors Note: The images displayed in this article (plus many more) can be viewed in The Racing Image Galleries and the Visions of Speed Art Gallery.