---
NASCAR: Sweet Repeat at Brickyard Would Extend Rudd's Streak
15 July 1998
Ricky Rudd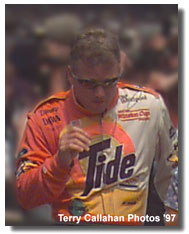 INDIANAPOLIS - NASCAR veteran Ricky Rudd needs a victory to extend his streak of consecutive years of winning at least one Winston Cup Series race to 16.
The Brickyard 400 would be the best place to keep that string alive since it also would make him the Brickyard's first two-time winner.
The fifth edition of the Brickyard still is 17 days away, but its importance was obvious Tuesday as Rudd and 36 other drivers continued a hectic week of prerace testing at the Indianapolis Motor Speedway. A total of 64 cars -- some in racing colors, others half-painted and many sporting a number and an undercoating on the body -- were in the garage area.
Defending champion Rudd, inaugural winner Jeff Gordon and 1996 victor Dale Jarrett were among the contingent of drivers seeking top speeds on an muggy, overcast day. Dale Earnhardt, 1995 champion, delayed his test session until next week.
"It feels a lot better than coming back here and not having a good run last time I was at this racetrack," said Rudd, who nipped Bobby Labonte by .183 of a second last Aug. 2.
"It's such a big race for all of us, an important race. And knowing we did things right the last time, it's kind of encouraging coming back to a track you've run well at. Obviously, we won last year here, but before we had some good runs, solid runs, top-10 runs every time we've been at Indy."
Rudd, from Chesapeake, Va., has produced other finishes of 11th, 20th and sixth at this race. He had a $571,000 payday last year and has earned $819,935 total in four races, placing him only behind the other three race winners in total Brickyard money winnings.
But 1998 hasn't been a good season for Rudd. He's had only one finish in the top 10, a sixth at Dover, and lingers 25th in the NASCAR Winston Cup standings. The only years in which he finished outside of the top 10 in the final standings were 1977 and 1997 (17th) and 1988 (11th). A rough start didn't help this year. Rudd finished 42nd in the Daytona 500 and 43rd the next week at Rockingham, N.C., in the Tide Ford Taurus. His average start this year has been 21st and finish 25th.
Since 1983, when he drove for Richard Childress and won twice, Rudd has managed to score at least one victory per year. In 1995, he kept the streak intact by winning at Phoenix in the second-to-last race of the season. Victories last year at Dover, Del., and Indianapolis tied him with Dale Earnhardt, whose run of 15 straight seasons with a victory ended in 1997 when he went winless for the first time since 1981.
Dale Earnhardt
"It's been pretty dry," Rudd said. "The car has been running better on the racetrack than it did the first third of the season. We've done better, but we don't have the finishing results."
Rudd finished sixth at Dover for his best finish of the season. He thought he had a shot at winning at Richmond, Va., but overdrove the corner and spun out with 20 laps left.
"We were knocking on the door there," he said. "At Sears Point (Calif.) a couple weeks ago, same thing. We were a top-10 car, had a shot at winning it, but with about 10 laps to go got spun out by Geoff Bodine. There have been opportunities presenting themselves, but we haven't been running as strong as we'd like. We're working on that."
In last year's Brickyard, Rudd gambled on fuel and stayed out as other challengers Jarrett and Gordon made late stops for splashes of fuel. He led only twice for 15 laps, but led the final 14 after he assumed the lead from Jarrett.
"It turned out not to be as big a gamble as it may have sounded," said Rudd, who signed his first big NASCAR sponsorship with the then-Indianapolis-based Stokely company in the golf lounge of the Speedway Motel in 1981.
"Everyone was fighting for track position. Everyone needed his car to be up front. The big gamble would have been we committed early that we weren't going to make another fuel stop. And there still were quite a few laps to go, and it was going to run under the green. That was the gamble. "But when the caution flag fell late in the race it wasn't a gamble at all."
First, there was a yellow on laps 147 through 150 to remove debris from the track. Then Rich Bickle crashed in Turn 3 to turn the yellow on again for Laps 155 through 157. This allowed Rudd to conserve his shrinking fuel supply during the 65-mph laps behind the Pace Car.
Rudd moved in behind the Pace Car when the other leaders dashed into the pits, and he then didn't have to worry about traffic. He said his car was fast late in the race in open air, while the other top cars pushed in traffic. They were unable to make a challenge.
"Circumstances, it all can come down to the same situation again," Rudd said. "If you have a choice of winning this race, I'll win it anyway I can.
"I'm sure everyone is coming here (for testing) intent on making the car as good and as quick as they can in the corners and as fast down the straightaways as they can."
Rudd said only Daytona and Charlotte are likely to see as many cars as testing this week at Indy. At Daytona, it's the first opportunity to test new equipment in a new year, while Charlotte is home base for most of the teams.
Car owner Rudd has brought three Ford Tauruses, each with different setups, to the track. The team has trouble getting the front end to stick in the corners.
"This racetrack just aggravates the situation," he said. "We're going to try to spend a little time with each one of them and make a decision on which race car to bring back."
BRICKYARD 400 NOTEBOOK
Odds and ends: Winston Cup newcomer Tim Steele hit the Turn 1 wall shortly after noon Monday. He was uninjured but had to go to his backup machine later in the day. "I'm not really sure (what happened)," he said. "I went into Turn 1, and everything was feeling good. Suddenly, it turned right. There was no catching it. You won't see that car run here the rest of the week." ... Kenny Irwin Jr., who grew up in Indianapolis driving open-wheel cars, came to the Speedway for the first time as a driver. He is behind the wheel of the famed No. 28 Robert Yates Texaco Ford. Irwin Jr. said his biggest adjustment to stock-car racing has been learning how to tell his crew what he needs to set up the car for various tracks.
***
Event schedule: The fifth annual Brickyard 400 starts at 12:15 p.m. (CDT) Aug. 1. Pole Day qualifying starts at 1:30 p.m. July 30. Qualifying for starting positions 26-36 begins at noon July 31.
The first practice session will take place from 1-5 p.m. (CDT) July 29. Practice continues from 9:30 a.m.-noon and 4-4:45 p.m. July 30. Final practice occurs from 3:30-4:30 p.m. July 31.
***
Broadcast schedule: The Brickyard 400 will be broadcast live on ABC and the IMS Radio Network at 1 p.m. (EDT) Aug. 1. ESPN's "On The Grid" prerace show starts at noon (EDT) Aug. 1, while the IMS Radio Network prerace show starts at 12:30 p.m. Aug. 1.
ESPN will televise Pole Day live from 2:30-4 p.m. July 30. ESPN2 will offer live Pole Day coverage from 4-5 p.m. July 30 and live second-day qualifying from 1-2 p.m. July 31.
The IMS Radio Network will broadcast live on Pole Day from 2-4 p.m. July 30. Qualification wrap-up shows will be broadcast from 6-6:30 p.m. July 30-31, with hourly reports both days starting at 11:15 a.m. The "Brickyard Live" show will be broadcast from 9-10 p.m. July 29-30.
ESPN and ESPN2 also will provide thorough coverage of Brickyard 400 practice and race previews July 29-31. Practices will be shown on ESPN2 from 2-4 p.m. and 4:30-6:30 p.m. July 29, and 6-7 p.m. July 31. The "Before They Go Green" preview will be shown on ESPN from 7:30-8:30 p.m. July 31.
Editors Note: The images displayed in this article (plus many more) can be viewed in The Racing Image Galleries and the Visions of Speed Art Gallery.