---
NASCAR: Rookie Park Puts Recovery into Drive at Indy Test
14 July 1998
Burton relishes N.H. victory by getting to work at Brickyard
Jeff Burton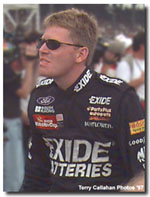 INDIANAPOLIS, - NASCAR driver Jeff Burton won Sunday at New Hampshire International Speedway and tested Monday at the Indianapolis Motor Speedway. It's been a bit longer since NASCAR rookie Steve Park has raced, but he also tested Monday at Indy.
They were two of six drivers who kicked off an intense week of testing for the fifth annual Brickyard 400 on Aug. 1. Others sending their cars through their paces Monday were Winston Cup veteran Jimmy Spencer, CART/NASCAR driver Robby Gordon, who drove Sunday in the Cleveland Grand Prix, NASCAR Craftsman Truck Series racer Tony Raines, a native of nearby Pendleton, Ind., and ARCA hopeful Don Pardus of Daytona Beach, Fla.
Burton spent little time celebrating Sunday's dominating Winston Cup victory at New Hampshire. He hopped in a plane, flew directly to Indy and was in his trackside garage Monday morning ready to test the No. 99 Exide Batteries Ford Taurus fielded by Roush Racing that he'll drive in the Brickyard. He has recorded finishes of 19th, 38th, 11th and 15th in four previous Indy attempts and now has his eyes set on winning.
Darrell Waltrip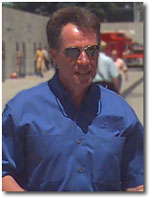 Park, on the other hand, will use the Brickyard as his springboard back into the racing waters after nearly six months on the sidelines recovering from severe injuries suffered in a practice crash March 6 at Atlanta Motor Speedway. Park will return to the Dale Earnhardt-owned Pennzoil Chevrolet Monte Carlo that former Winston Cup champion Darrell Waltrip is driving quite well during his absence.
"Really, we'd like to have our comeback here at the Brickyard be one to remember, especially with Pennzoil sponsoring the race," said Park, 30.
"We've made a pretty good effort to come out here and test, to come back, qualify well and run well in the race. If we can do that, I think that will put all the fears behind all of us, and we can continue headstrong through the rest of the year and show that this Pennzoil Chevrolet team can win some races."
Park, a native of Northport, N.Y., broke his right femur, left collarbone and right shoulder blade, and suffered three chipped front teeth in his practice crash at Atlanta. Today he still walks with a limp, but doctors say it will go away.
Before he was allowed to come to Indy to test, he had to get a medical release that he was fit to drive. Two weeks ago, the team took him to Greenville-Pickens (S.C.) Speedway, a flat short track, and he drove 200 laps.
"I feel I'm about 90 percent back," he said.
"The leg probably is the worst for wear, but it's doing pretty good. I still limp a little bit, but its healed about 90 percent. It feels good in the race car. I mean, when you're sitting down working, it's not too bad. It bothers me more walking. If I get up and walk around on the leg for two or three days, it gets sore. I get a chance to rest every once in a while in the race car."
Park, 1997 NASCAR Busch Grand National rookie of the year, grew up watching the Indianapolis 500 on television and calls his return at the Speedway pretty exciting.
"Coming here last night, we flew over the racetrack," Park said. "It's just amazing the amount of tradition that's here and going back to the early 30s or 20s or so when they ran out here. Growing up as a kid my dad always raced and stuff.
"I remember watching the Indy 500 for years and years on TV and wondering if I would ever get to race here. And then when my roots turned toward NASCAR and stock car racing, I thought that dream would be gone. Four years ago that dream was realized when NASCAR made its first trip out here in the Brickyard."
When Burton was last seen on television from Victory Lane in New Hampshire on Sunday, he was kissing his wife, Kim. Burton, a native of South Boston, Va., finished fourth in the 1997 Winston Cup standings and won at Texas, New Hampshire and Martinsville, Va.
It seemed that a little celebrating for he and the team might have been a proper reward for the repeat win at New Hampshire. Instead, he was at his Speedway garage shortly after 8 a.m. Monday.
"That's the nature of this business," said Burton, 31. "You can't really sit on anything. When you have success or failure, either one, you've got to keep working to make it better.
"This is a perfect example. I think a lot of people would assume we're having a team party or something today, but the guys are back at the shop building some new race cars, and we're here working trying to get ready for Indy. And that's what makes a good race team."
Burton led 21 laps in last year's Brickyard and drove from 28th to 11th the year before, but he hasn't had any luck when it counted. A deflated tire late in the race took away a shot at the checkered flag.
"Those finishes don't indicate where we've run here," he said. "We have a little more confidence about Indy than if you looked at our finishes would indicate that we'd have."
BRICKYARD 400 NOTEBOOK
Robby Gordon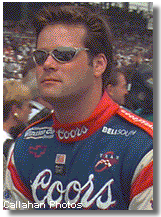 Odds and ends: Robby Gordon, one of the five drivers to compete in both the Indy 500 and the Brickyard 400 (he was 28th last year), is teamed with Raines, a two-time winner on the NASCAR Craftsman truck circuit this season, in the Yellow Freight cars. ... Pardus, trying to run a limited NASCAR season, failed to make races at Daytona and Talladega this year. He tested at Daytona the week before the Pepsi 400 was postponed and said the smoke caused by the extensive wildfires in the state made it difficult to see. ... Jeff Gordon's transporter arrived at 1:30 p.m., followed by Joe Nemechek's. By 4 p.m., Gordon's garage was set up, and two cars were inside ready to go.
***
Event schedule: The fifth annual Brickyard 400 starts at 12:15 p.m. (CDT) Aug. 1. Pole Day qualifying starts at 1:30 p.m. July 30. Qualifying for starting positions 26-36 begins at noon July 31. The first practice session will take place from 1-5 p.m. (CDT) July 29. Practice continues from 9:30 a.m.-noon and 4-4:45 p.m. July 30. Final practice occurs from 3:30-4:30 p.m. July 31.
***
Broadcast schedule: The Brickyard 400 will be broadcast live on ABC and the IMS Radio Network at 1 p.m. (EDT) Aug. 1. ESPN's "On The Grid" prerace show starts at noon (EDT) Aug. 1, while the IMS Radio Network prerace show starts at 12:30 p.m. Aug. 1.
ESPN will televise Pole Day live from 2:30-4 p.m. July 30. ESPN2 will offer live Pole Day coverage from 4-5 p.m. July 30 and live second-day qualifying from 1-2 p.m. July 31.
The IMS Radio Network will broadcast live on Pole Day from 2-4 p.m. July 30. Qualification wrap-up shows will be broadcast from 6-6:30 p.m. July 30-31, with hourly reports both days starting at 11:15 a.m. The "Brickyard Live" show will be broadcast from 9-10 p.m. July 29-30.
ESPN and ESPN2 also will provide thorough coverage of Brickyard 400 practice and race previews July 29-31. Practices will be shown on ESPN2 from 2-4 p.m. and 4:30-6:30 p.m. July 29, and 6-7 p.m. July 31. The "Before They Go Green" preview will be shown on ESPN from 7:30-8:30 p.m. July 31.
Editors Note: The images displayed in this article (plus many more) can be viewed in The Racing Image Galleries and the Visions of Speed Art Gallery.