---
The Callahan Report: Jeff Burton Finds his Way Back to Victory Lane in New Hampshire
12 July 1998
Jeff Burton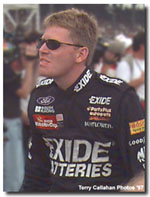 LOUDON, NH: When you love something and lose it, you will search vigorously to regain its possession. Jeff Burton found victory lane three times in 1997. At the beginning of the 1998 NASCAR Winston Cup season, Burton was expected to be a championship contender. Burton's performance throughout this season has been dismal. That all changed Sunday. Burton has remained determined to find the winning combination he discovered last season. He found what he lost the first half of this season . . . the precious taste of victory. Jeff Burton won the Jiffy Lube 300 NASCAR race in dominating fashion.
"It was one of those days that you mash the gas and it hooks up, and when you turn the wheel it turns," Burton said after winning by a margin of seven seconds. "It was easy."
Burton and his Roush Racing team, under the direction of Frank Stoddard, decided to make some changes after the final practice session Saturday. The changes were the keys to his success Sunday. His crew sacrificed a good night's sleep to help Burton in his quest to return to victory lane.
"We had a little conversation (after the final practice)," Burton said "We put two more things on our race car . . . and sure enough . . . it helped." He continued, "We were awful good on the long runs, but we had to work all day because the car was really tight, and we couldn't run behind people."
Burton had little competition in the race beyond lap 80. He captured the lead then and went on to lead 191 of the 300 laps in the race. It was the second time Burton had dominated a NASCAR Winston Cup race at New Hampshire. Two of his four career wins have come at this short flat track.
"If I had to pick a favorite, it would be right up there," Burton had said before the race about the New Hampshire track. "We had awesome race car." Burton continued. ``But we had work on it."
Burton's biggest scare came on the opening lap as he nearly tangled with Kyle Petty. Burton missed a gear heading to the green flag. Petty blew past Burton and then slid up the track in the second turn. Burton charged back under Petty exiting the corner.
"We got together, and on the back straightaway he (Petty) wanted to let me know how he felt about it. So, the next thing I know, we're almost in the grass going down the backstretch, and I decided to get off and back out of it."
The Roush Racing team applied some car settings to other cars in their racing stable. Mark Martin, one of five drivers working for Jack Roush this season, used the setup tips to capture second place in Sunday's race. Martin was strong but he was never a threat to Burton.
"He deserved to win," Martin said. "He deserved to win some other races this year, and today he got it."
Jeff Gordon

Jeff Gordon, the current Winston Cup point leader, was able to stretch his series lead on the competition by virtue of his third place finish. Except Mark Martin, Gordon finished ahead of everyone chasing him in the point standings. Gordon was attempting to be the first repeat winner at New Hampshire. Gordon won the CMT 300 in September at this scenic facility. "No way were going to touch him (Burton) today," Gordon said.
Ricky Craven, the polesitter for the race, faded early due to handling problems. The Jiffy Lube 300 marked the return of the popular driver from nearby Maine. Craven was sidelined for four months after being diagnosed with post concussion syndrome. The injury was a result of multiple accidents during the 1997 racing season.
"The tire wear was ugly," Craven said. "We had an oil leak that killed us out there."
The Jack Roush team is very familiar with visits to victory lane. Stoddard, the crew chief for Burton, is not used to the success. Stoddard moved up to his crew chief position after Buddy Parrott was named team manager for Burton and Martin. Stoddard is a native of New Hampshire.
"We found an oil leak at the last practice, and these guys worked hard last night." Stoddard said. "We came here at 5 o'clock in the morning to finish up the car."
The winner's share of the $2.3 million purse was $128,575. Burton averaged a speed of 102.996 mph en route to his first 1998 NASCAR victory. The race was slowed by six caution periods for a total of 40 laps. The lead changed hands 17 times among nine different drivers.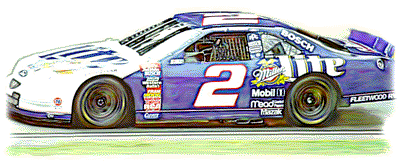 Rusty Wallace
Rounding out the top five was Rusty Wallace in fourth (Ford Taurus) and Mike Skinner (Chevrolet Monte Carlo). It was the first top-five finish of Skinner's career in a points paying race. Skinner won the exhibition race in Japan at the conclusion of the 1997 season.
Editors Note: The images displayed in this article (plus many more) can be viewed in The Racing Image Galleries and the Visions of Speed Art Gallery.