---
NASCAR: Winston Cup Teams Head to Indy for Testing
11 July 1998
INDIANAPOLIS - Nearly 40 NASCAR Winston Cup teams will participate in a test session July 13-17 at Indianapolis Motor Speedway, an important tuneup for the Brickyard 400 on Aug. 1.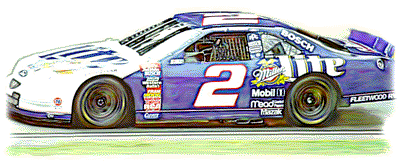 Rusty Wallace
Among the teams testing will be Hendrick Motorsports (1994 Brickyard 400 champion Jeff Gordon and Terry Labonte), Roush Racing (Mark Martin, Jeff Burton, Ted Musgrave, Johnny Benson Jr., Chad Little), Penske South Racing (Rusty Wallace), Penske-Kranefuss Racing (Jeremy Mayfield), Robert Yates Racing (1996 Brickyard 400 champion Dale Jarrett, Kenny Irwin Jr.), Rudd Performance Motorsports (1997 Brickyard 400 champion Ricky Rudd), Bill Elliott Motorsports (Bill Elliott) and Joe Gibbs Racing (Bobby Labonte). Not all of the team's primary drivers will participate in the test.
Testing will take place from 9 a.m.-5 p.m. each day on the historic, 2.5-mile oval. The South Terrace grandstands, open every day for Indianapolis Motor Speedway Hall of Fame Museum visitors, will be available for fans to watch the test.
Editors Note: The images displayed in this article are available for larger viewing in The Racing Image Galleries and The Visions of Speed Art Gallery.