---
NASCAR BGN: Stewart, Shell Team Marches to Myrtle Beach with Small Soldiers
10 July 1998
Tony Stewart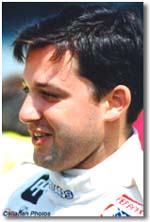 MYRTLE BEACH, SC -The image of Archer, the leader of the Gorgonites from the newly released action adventure film Small Soldiers, will emblazon the hood of the #44 Shell Pontiac this weekend for the running of the NASCAR Busch Grand National Series Myrtle Beach 250 at Myrtle Beach Speedway. Special Shell team crew uniforms and Tony Stewart's driver's uniform have also been designed in the Small Soldiers theme.
The special paint scheme is part of a summer-long cross-promotional tie-in and merchandising program of Small Soldiers with Joe Gibbs Racing's NASCAR Winston Cup, Busch Grand National and NHRA Funny Car teams.
Blending live action with state-of-the-art computer animation, Small Soldiers is the story of a battle between a small, but intrepid band of monstrous looking creatures (Gorgonites) and a platoon of war-loving commandos (Commando Elite) - prototype of the most advanced action figures ever imagined.
"I am excited that the Shell team has been included in the Small Soldiers promotion" said Stewart. "When a major movie studio uses motorsports to promote a film, it tells you how far the popularity of the sport of racing has evolved. The car and the crew uniforms look awesome.
"The program will allow us to get more exposure for Shell," Stewart continued. "They are a tremendous sponsor for us and we want to give them back as much as they have given our team. It was a great experience for me to be a part of the unveiling last week in Orlando and get a glimpse of what goes on in Hollywood. This movie is amazing. The technology they used in designing the characters and putting the whole thing together is just incredible.
"Every time we race, we give our best to get Shell in the winner's circle," concluded Stewart. "At Myrtle Beach we will continue that effort. Maybe Archer will be the good luck charm we need to get our first win in the Shell Pontiac."
Bud Pole qualifying for the Myrtle Beach 250 will be at 5:00 p.m. EDT on Saturday, July 11. The race will be live on TNN beginning at 9:00 p.m. EDT the same day. MRN will broadcast the race to over 400 radio stations nationwide.
Shell Oil Company is one of America's leading oil and natural gas producers, manufacturers, transporters and marketers of oil and chemical products. It is a recognized pioneer in technology for oil and gas exploration and the largest gasoline marketer in the United States. Headquartered in Houston, Texas, Shell Oil is an affiliate of the Royal Dutch/Shell Group of Companies.
Editors Note: The images displayed in this article are available for larger viewing in The Racing Image Galleries and The Visions of Speed Art Gallery.