---
NASCAR: Square D Racing Review/Preview
9 July 1998
Kenny Wallace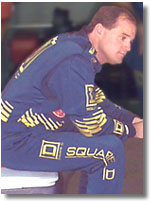 HARRISBURG, N.C., (July 9, 1998) - With the Pepsi 400 at Daytona (Fla.) International Speedway postponed until Oct. 17, Square D Ford driver Kenny Wallace took some time for himself and his family on a rare Fourth of July weekend away from the race track. The Wallace clan headed to another beach - Myrtle Beach, S.C., for some rest and relaxation before entering a stretch of 15 consecutive races, beginning with the Pennsylvania 500 at Pocono (Pa.) Raceway on July 26 and concluding with the NAPA 500 at Atlanta Motor Speedway on Nov. 8.
"We made the best out of a bad situation," said Wallace. "My wife Kim, my children and myself all went to Myrtle Beach on the spur of the moment. It was a surprise week off and we needed it, because we're going to be on the road soon for 15 straight weeks.
"One good thing about most of the races coming up is that they're on the east coast. That enables me to take my kids to Bristol, Martinsville, Rockingham and Darlington. It's going to be a tough stretch, but it's not nearly as bad as it could be."
The New Hampshire International Speedway, host of this week's Jiffy Lube 300 NASCAR Winston Cup event, is also the site of a NASCAR Busch Series, Grand National Division win and pole for Square D Ford driver Kenny Wallace. The win came in 1991 at the Budweiser 300, and the pole came the following year in the same event.
"Loudon is not an easy race track," said Wallace. "You've got to have incredibly good brakes because New Hampshire is like a big Martinsville. You need plenty of horsepower to get down the straightaways, but you've got to have enough brake to slow down for the corners. The corners are really flat, so you need your setup to be just right. Passing is at a premium too. It's not impossible, but it is difficult. You've got to be able to get up underneath someone coming off the corners, and you need to have the ability to pass on the outside.
"The best thing about running at New Hampshire is that the fans are always incredibly excited to see us. Whenever we visit Loudon, it's like we're going there for the first time. Motorhomes are everywhere, and the fans really pack the place in. It's something that's always stuck in my mind ever since I first raced there in the Busch Series back in 1990."
Editors Note: The images displayed in this article are available for larger viewing in The Racing Image Galleries and The Visions of Speed Art Gallery.