---
The Callahan Report: Craven Returns; Bobby Hamilton has Good Shot at New England
8 July 1998
LOUDON, NH:
Two weeks ago, it was barely evident there was a race being run at the New Hampshire International Speedway. The Indy Racing League could fill only 20,000 of the 80,000 seats at this scenic facility. Things are about to change. The bleachers at New Hampshire will be thoroughly cleaned this weekend as NASCAR fans will occupy every seat at the relatively new track. The "stand-up/sit-down" action of the race fanatics will make the aluminum seats sparkle once again. It is a trademark of the exciting world of NASCAR Winston Cup racing.
Ricky Craven

New Hampshire has produced some surprises during its short history. The drivers making trips to victory lane since the track opened in 1993 have all been stars, but there have been several non-winners who have done well in this Northeast location. Steve Grissom and Ricky Craven, both looking for their first NASCAR Winston Cup victory, have been strong contenders in New Hampshire. Craven will be making his return to the driver's seat after some time of for post concussion syndrome.
Bobby Hamilton

Bobby Hamilton is a NASCAR winner. However, his 1998 season has been up and down. Hamilton dominated at Martinsville earlier this season. His performance since then has been dismal until the stars of the Winston Cup series took to the road course at Sears Point. Hamilton was engaged in an intense battle with Jeff Gordon at Sears Point, proving that Hamilton was "on track" once again. The driver of the Kodak sponsored car, Hamilton knows the fast way around the track at New Hampshire. He led several laps at this tight track last year. Hamilton is expected to be one of the favorites for a first time win at New Hampshire.
Another driver who will perform well this weekend will be Dale Jarrett. The number one driver for the Robert Yates team is no stranger to victory lane. Jarrett is becoming a master at every NASCAR venue. He dominated the early stages of the New Hampshire race in 1997 but had trouble late in the race which dropped him out of the top-ten. Look for Jarrett to stay out of trouble and be a threat to own the real estate surrounding victory lane at the conclusion of the race this weekend.
The other Dale (Earnhardt) has been good at the restrictor plate races this season. His performance at other tracks has been less than impressive. That should change in New England. Earnhardt should be back in contention at the "one mile" tracks. He obtained a new crew chief recently. The team has had time to gel. Earnhardt started 26th and finished 2nd at this race last year. Based on these facts, "The Intimidator" will be a force in the Jiffy Lube 300.
Dale Earnhardt
Rusty Wallace has not won a race this season. He has been a frontrunner in most of the events. This should be an "on-week" for Wallace. The team has always performed well at New England. Wallace was the winner of the inaugural race here in 1993. He started 13th last year and charged to a third place finish. Wallace should be a winner or at least find himself with another top-five finish.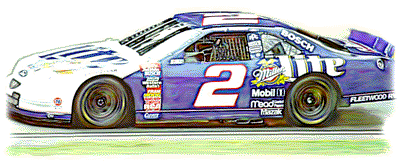 Rusty Wallace
Mark Martin has been tough wherever he has raced in 1998. Martin has already scored four wins this season. He has also posted 12 top-ten finishes. He seems to have little trouble finding his way to the front at this race track. Martin finished fifth in the Winston Cup show last year. The Valvoline Ford Taurus will be showing its colors in the front of the pack (as usual) in Loudon.
The darkhorse pick for the Jiffy Lube 300 is last year's winner. Jeff Burton has been struggling in 1998. He dominated late in the race last year. He obviously is overdue for a victory. Burton is a part of the Roush Racing super team. The team will be studying their notes from last year. Their homework prior to the race may land Burton his first victory of the season. Burton moved from 15th to first for the win in 1997.
Other notables for this weekend's show are: 1.) Jeff Gordon, (won the last Winston Cup event and is first in the series points race.) 2.) John Andretti, (finished third in his last outing at Sears Point and was a leader in New Hampshire last year.) 3.) Bill Elliott, (started 23rd and finished 6th here last year.)
The Jiffy Lube 300 at New Hampshire International Speedway will certainly provide some surprises. The winner may come from anywhere in the pack at this 1.058 mile paved speedway. The qualifying speeds are expected to be in the 130 mph range.
Callahan's Picks: Jiffy Lube 300
1. Bobby Hamilton
2. Dale Jarrett
3. Dale Earnhardt
4. Rusty Wallace
5. Mark Martin
Darkhorse: Jeff Burton
Agree or disagree? Submit you opinions to Terry Callahan at The Auto Channel.
Editors Note: The images displayed in this article (plus many more) can be viewed in The Racing Image Galleries and the Visions of Speed Art Gallery.