---
NASCAR: No Bull $1 Million Available for Stars at Indy
8 July 1998
INDIANAPOLIS -- Five NASCAR Winston Cup Series drivers have a chance to enjoy NASCAR's biggest payday in the Brickyard 400 at Indianapolis Motor Speedway on Aug. 1.
At the start of this season, R.J. Reynolds Tobacco Co., which sponsors NASCAR's elite stock car division with its Winston brand, announced the No Bull 5 bonus program.
It works like this: The top five drivers in designated races are eligible for a $1 million bonus if they win the next NASCAR major.
The five races selected for the program are the Daytona 500, Coca-Cola 600 at Charlotte Motor Speedway, Brickyard 400, Southern 500 at Darlington (S.C.) Raceway, and Winston 500 at Talladega (Ala.) Superspeedway.
The No Bull 5 replaced The Winston Million program, which was started in 1985. With that plan, one driver had to win three of NASCAR's original "crown jewel" events to win $1 million. The Brickyard 400 is in perfect company with those other NASCAR majors.
Only two drivers were able to earn The Winston Million. Bill Elliott pocketed the money in 1985, and Jeff Gordon accomplished the feat in 1997.
The next stop for the No Bull 5 is the Brickyard 400, and the drivers eligible for the $1 million bonus are Jeff Gordon, Rusty Wallace, Bobby Labonte, Mark Martin and Dale Jarrett, based on their finish in the Coca-Cola 600 in May.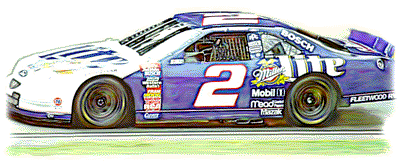 Rusty Wallace
Wallace, who runs a Ford owned by Penske Racing, came within a handful of laps of winning the bonus money at Charlotte but was passed by Gordon for the win in the late stages of NASCAR's longest stock-car race.
"Man, I wanted that million from Winston, and I know they wanted me to have it," said Wallace, who was one of five drivers eligible at Charlotte based on their Daytona 500 finish. "We tried. I thought we had it. I really did."
Labonte was also in line for the million at Charlotte, which made Gordon's victory there that much harder, and sweeter.
"It's pretty tough when you're racing two guys going for a million bucks," said Gordon, who wheels a Chevrolet out of the Hendrick Motorsports stable. "They were driving hard."
So, in addition to the field of 40-plus cars battling for a share of the Brickyard 400's generous purse, there will be a race within the race, as Gordon, Wallace, Labonte, Martin and Jarrett jockey for the big bonus award.
In that group are two former Brickyard 400 winners. Gordon, who spent much of his youth in the Indianapolis area, won the inaugural 400 in 1994. Jarrett, who comes from one of stock-car racing's favorite families, captured the race in 1996.
There has yet to be a repeat winner in the Brickyard 400, so if you're looking for a favorite, don't look much farther than Martin, who is due to win a NASCAR major.
"Oh, man," said Martin, who drives a Roush Racing Ford. "That's an incredible opportunity there. That race pays an awful lot of money before you throw that million dollars on top of it, so it's pretty neat. It's really incredible.
"I don't know how we're gonna try any harder than we've been trying, we just hope that it winds up being our lucky day I guess."
Gordon has a knack for winning special NASCAR races. He won the first Brickyard 400. He captured the inaugural run at California Speedway in 1997, and he won the last Winston Cup race held at North Wilkesboro (N.C.) Speedway in '96.

Jeff Gordon
Being the first driver to win the No Bull 5 million seems like the next logical step.
"I like the No Bull 5 now that I'm part of it," said Gordon, who boasts a pair of Winston Cup championships since earning rookie-of-the-year honors in 1993. "It's exciting to have five guys going for it. It shows R.J. Reynolds' commitment to this sport.
"I think you'll probably see someone win that $1 million. There are too great a chances for that not to happen."
Labonte, who scored wins at Atlanta and Talladega early in the season, drives the Joe Gibbs Racing Pontiac. Jarrett, son of two-time Winston Cup champion Ned Jarrett, wheels a Ford owned by Robert Yates.
Wallace is the only driver among the Indy No Bull 5 contenders not to have scored a Winston Cup win this season, although he had 47 career wins entering 1998. Editors Note: The images displayed in this article are available for larger viewing in The Racing Image Galleries and The Visions of Speed Art Gallery.