---
NASCAR: Waltrip Scoring Points In DEI'S Pennzoil Monte Carlo
2 July 1998
Darrell Waltrip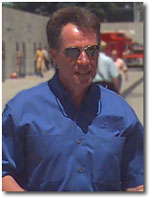 #1 Pennzoil Monte Carlo driver Darrell Waltrip scored the ninth most driver points in the last two months of NASCAR Winston Cup competition -- the 8 races since Martinsville. He looks to continue the recent string of good performances at Daytona International Speedway on Saturday night in the sport's first superspeedway night race.
The three-time Winston Cup champion has moved from 40th to 24th in driver points since joining Dale Earnhardt Inc. at Bristol on March 29. Waltrip will return to the #17 car on Aug. 1 at Indianapolis when Steve Park resumes his duties as driver of the #1 Pennzoil Monte.
Driver Points In The Last Two Months -- since Martinsville
1 Gordon 1272
2 Martin 1250
3 Jarrett 1198
4 Mayfield 1159
5 B. Labonte 1130
6 Marlin 1025
7 J. Burton 1007
8 Irwin 994
9 D.Waltrip 971
10 Spencer 966
Concerns About Driving Daytona At Night:
"One of the things I am concerned about racing at Daytona at night is the shadows. If you think about the other lighted tracks that we race on there certainly isn't a lot of side-by-side racing and there certainly isn't a lot of racing in groups like we do at Daytona in Talladega. I'm concerned about how the cars and how the drivers are going to react to the lights when we are eight or ten cars deep and two and three cars wide as we are going around that track."
Benefits Of Driving Daytona At Night:
"I think the race is going to be better because, and this is the good thing about night racing, the track conditions are usually thrown out. You don't have to worry about it being hot and slick and the track is fairly consistent. That will make for better racing. One of the things we have to constantly fight at Daytona is handling. You have to be able to run the thing wide open and I think everyone will be able to do that at night. We haven't tested there, but the people that have said the track is well lit and there shouldn't be any problems."
Editors Note: The images displayed in this article are available for larger viewing in The Racing Image Galleries and The Visions of Speed Art Gallery.