---
NASCAR BGN: Stewart Likes Chances for Victory at Milwaukee Mile
2 July 1998
"LEGENDARY OVAL" SUITS TONY STEWART
Tony Stewart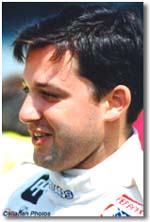 WEST ALLIS, WI - The Shell team and Tony Stewart like their chances for victory in the DieHard 250 at the Milwaukee Mile. All three of Stewart's top- five finishes this season in NASCAR Busch Grand National competition have come on tracks similar to the "Legendary Oval".
"I like the Milwaukee Mile, it seems to lend itself to my driving style," said Stewart. "The second and third place finishes I have this season in the Shell Pontiac have come on one-mile tracks. I ran the Busch race at Milwaukee in '96. We ran well most of the day, but had a problem that kept us from a good finish. The Shell team has had success here in the past with Bobby Labonte and have developed an excellent set-up for the track. When you take these things into consideration, it indicates just how prepared this team is win.
"We have been so close," Stewart explained, "It's been a little frustrating for us not to be able to get over that final hurdle to take the win. Bryant (Frazier, crew chief) and the crew are as dedicated as I am to getting Shell in victory lane. I feel once I get my first win with the Shell team, it will give us the momentum we need to return to the winners circle. Milwaukee would be a great place for me to get that first win."
"We know a win with Tony is on the horizon," said Frazier. "His dedication to improve and desire to win provides this crew strong incentive to continually give him good race cars. The Milwaukee Mile requires a combination of a solid set-up under the car and a driver that understands how to drive a flat race track. We have that combination and feel we can take the Shell Pontiac to victory lane this weekend."
Bud Pole qualifying for the DieHard 250 is scheduled for Saturday, July 4th at 11:00 a.m. CDT. The race will begin at 1:00 p.m. CDT on Sunday, July 5th. Live television coverage will be provided by TNN with MRN carrying the race live to over 400 radio affiliates nationwide.
Editors Note: The images displayed in this article are available for larger viewing in The Racing Image Galleries and The Visions of Speed Art Gallery.