---
NASCAR-WCUP: #77 to be a T-Bird at Daytona
1 July 1998
Robert Pressley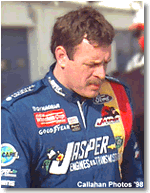 June 30, 1998 -- (Mooresville, NC) -- The #77 Jasper Engines Ford will not be a Taurus this week but rather a familiar site, the Ford Thunderbird. The team made the decision after extensive tests in the wind tunnel at Langley Air Force Base on June 3 and 4. We also tested at the Daytona International Speedway on June 8, 9 and 10. Crew Chief Michael McSwaim explained it as simply "Lack of development."
"This is the first time that we have built a Taurus for the superspeedway" said car owner and chief engineer Mark Harrah. "Although we are making gains and receiving some valuable information in the wind tunnel and testing in the last thirty days, we simply have no other choice right now but to use the T- Bird." We really need to get up to speed on the Taurus." "If we make the necessary strides we will use one at Talladega in October."
Editors Note: The images displayed in this article are available for larger viewing in The Racing Image Galleries and The Visions of Speed Art Gallery.