---
CART: Greg Moore Placed on Probation
25 June 1998
DETROIT, MI:
Championship Auto Racing Teams driver Greg Moore has been placed on probation by the sanctioning body of the FedEx Championship series. The ruling came as a result of an on track incident on the opening lap of the Budweiser-G.I. Joe's CART race in Portland last weekend.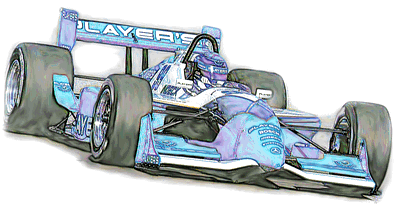 Greg Moore
Moore, currently second in the championship standings, was punished for taking an "unjustifiable risk". Moore qualified 14th for the race. He passed several cars at the start before jumping a curb and colliding with Christian Fittipaldi who was starting from the 7th position. The incident caused several drivers to take evasive action.
Three drivers, including Moore and Fittipaldi, were eliminated from competition as a result. Paul Tracy was unable to miss the accident. He slid into the rear of the pileup. Michael Andretti lost two laps when he stalled his race car avoiding the accident.
CART steward, Wally Dallenbach, has not specified the length of the probation period. He commented, "Greg's record has been good prior to the incident and this is strike one. I am hopeful we will not have to do anything more, but we have to get the drivers' attention."
Moore is the second driver to be placed on probation this season in the CART FedEx Championship series. Paul Tracy was placed on probation June 11 for an accident which also involved Christian Fittipaldi. Tracy was later suspended from the second round of qualifying at Portland. Tracy was blamed for an accident during the first round of qualifying which led to his suspension.
The focus of the driver's meeting before the race at Portland was discipline and patience at the start, according to Dallenbach. He implied that Moore's actions at the start of the Budweiser-G.I. Joe's race eliminated four potential winners from the race.
Editors Note: The images displayed in this article (plus many more) can be viewed in The Racing Image Galleries and the Visions of Speed Art Gallery.