---
NASCAR-WCUP: Darrell Waltrip Climbs Out of Another Hole
22 June 1998
Darrell Waltrip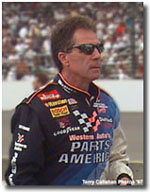 As a youngster, Jeremy Mayfield said he dreamed of passing his hometown hero Darrell Waltrip in the closing laps to win his first NASCAR Winston Cup race. Waltrip's dream of late has been to show the world that not all of the skill, grit and determination that led youngsters like Mayfield to idolize the three-time Winston Cup champion has left Waltrip's 51-year-old old body.
On Sunday in Pocono, Mayfield's boyhood dreams came true and the dreams of the middle-aged Waltrip took another step toward becoming a reality as he ably fills in for the injured Steve Park. While Waltrip wowed the thousands of Pennsylvanians gathered to watch his 735th Winston Cup start, his young protg' earned that first victory and did it just as he lived it in his dreams, by passing his Owensboro, Ky. hero in the closing laps of the race.
As Mayfield celebrated first place in victory lane, Waltrip celebrated sixth place near the Pennzoil team hauler. Both were equally proud.
"You know a whole lot of people buried ole' DW, but I guess they just didn't put enough dirt on me, because I'm still alive and I'm crawling out of a hole," joked Waltrip immediately after climbing from the #1 Pennzoil Monte Carlo.
But Waltrip didn't spend all of his time joking with the throng of reporters gathered around the Pennzoil Monte Carlo after the race. For a few minutes, the proud champion admitted how happy it was to return to the font of the field. And for just a few brief instances his voice changed tone, his eyes watered and he spoke seriously like a man a little bit surprised, but very thankful of his recent fortune.
"I've been in some holes in my life, but today I'm feeling about as happy as I have in a long time," said an emotional Waltrip. "This means so much that it is hard to put into words. This has given me new life."
With that, Waltrip walked off with his wife Stevie and their two daughters to celebrate one of the best Fathers Days in their recent memories. Their Dad might not have bettered his season-best fifth-place finish in California, but Dad darn near won the race.
There were lots of reasons for the celebration.
Waltrip used some heady pit strategy by his Dale Earnhardt Inc. team to move from his 18th-place starting spot to lead more than a dozen laps including moving to the front of the field with less than 25 laps left in the race. That came when the leaders elected to pit for tires. Crew chief Philippe Lopez told Waltrip to come in only for a gas only pitstop on lap 171 moving the Pennzoil car from third to first place. With old tires, everyone knew Waltrip would face a difficult task of holding off the leaders, but they also knew those leaders would have a difficult task passing a race-leading Darrell Waltrip.
"I like my position and I don't plan on giving it up," Waltrip told the crew over the team radio. And he did just that.
Racing wheel to wheel with Mayfield and Jeff Gordon, Waltrip revived visions of past glories and a renewed enthusiasm for the present as he held off the faster cars lap after lap before the new tires enabled Mayfield to get a good run on Waltrip and claim the lead. Four more cars on new tires slipped by Waltrip, but only five of about twenty lead lap cars could move ahead of the determined Waltrip as he pulled away from many of his closest competitors in the final laps.
When he climbed from the car, he reminded everyone that this new Dale Earnhardt team is still growing. And that better things lay ahead.
"This team is getting better and better each week and we aren't done yet," Waltrip said. "I'm learning thing from them and I'm teaching them. We can still win and race. I really believe that."
Waltrip took time to even praise race-winner Mayfield, who like Waltrip's brother Michael and fellow competitors Jeff and David Green; all grew up racing in Owensboro, Ky. .
"Jeremy is a good boy and I'm really happy for him," Waltrip said. "I doubt that is the last time he wins one of these races. Now that he has his first the next victories will come a bit easier for him."
After Sunday Mayfield needs just 83 more victories to become the most victorious racer from Owensboro and the man he is trying to catch might not need much else to convert even his harshest critics that 'ole DW has climbed out of his hole with his first-year team and is roaring back to life.
Editors Note: The images displayed in this article are available for larger viewing in The Racing Image Galleries and The Visions of Speed Art Gallery.