---
NASCAR: Martin Gunning for Victory Under the Lights at Daytona
17 June 1998
Mark Martin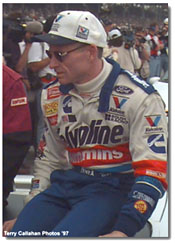 DAYTONA BEACH, Fla. -- For Daytona Beach resident Mark Martin, who is in the midst of his most successful season to date as a driver, the Fourth of July's inaugural nighttime running of the Pepsi 400 could prove to be his best opportunity yet to gain his first career NASCAR victory at Daytona.
Martin and his Roush Racing team are simply enjoying a phenomenal start to the 1998 NASCAR Winston Cup season. Martin's No. 6 Valvoline Tauruses have already visited Victory Lane five times this season including a victory in The Winston, NASCAR's all-star race.
Martin won earlier this season at Las Vegas, Texas, California and Michigan and currently holds third place in the NASCAR Winston Cup points standings, trailing leader Jeremy Mayfield by a mere 28 points. Additionally, Martin has added a NASCAR Busch Series victory and won the most recent International Race of Champions (IROC) race at California Speedway.
This will be Martin's 13th Pepsi 400. In his 12 previous showings, Martin's highest finish was two consecutive fourths in 1994 and 1995. Last year, after qualifying 18th, he finished a disappointing 27th. However, the electric atmosphere that is sure to surround Daytona's first night race might be the perfect setting for Martin and his Roush Racing team members.
"I didn't expect to ever race under the lights at Daytona," said Martin. "To start with, I didn't think that it could be done. I would much rather figure out how to make a race car go 200 mph than figure out how to light Daytona. When I finally saw the track lit. It was exciting, absolutely spectacular.
"I think the feeling that you get at night is more exciting, it's the whole atmosphere. The light pops off of the cars, everything looks fast, and the temperatures are cooler. It reminds me of when I went to high school football games, it was always really exciting. When the sparks start flying on the Fourth of July, it's going to be real exciting for the fans."
Martin will be searching for his 27th NASCAR Winston Cup victory when the green flag falls on the Pepsi 400 at 8 p.m. on July 4.
Although grandstand seating is sold out for the 1998 Pepsi 400, other options available to fans wishing to experience "Daytona at the Speed of Light" include unreserved grandstand tickets good for admission to all of Thursday's and Friday's on-track action. Infield tickets for the entire weekend of racing will be available at the gate starting on Thursday, July 2.
To witness Daytona's new spectacular lighting system and two nights of NASCAR Winston Cup practice and qualifying for the price of one, Thursday Collectible Pole Night Tickets must be purchased in advance for $15. Call the Speedway Ticket Office at (904) 253-7223, or for more information visit http://www.daytonausa.com.
Editors Note: The images displayed in this article are available for larger viewing in The Racing Image Galleries and The Visions of Speed Art Gallery.