---
IROC: Rain Puts Damper on Short IROC Show at Indy
16 June 1998
Jack Miller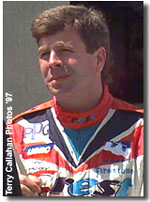 INDIANAPOLIS - Nearly 6,000 Rotarians filled several sections of the inside Tower Terrace grandstands Tuesday at the Indianapolis Motor Speedway, but they huddled under umbrellas more than they watched race cars.
A planned afternoon demonstration by the Nissan-powered Pep Boys Indy Racing League cars of Dr. Jack Miller and Indy 500 rookie J.J. Yeley was scrubbed. The worldwide Rotary visitors were limited to viewing a six-lap demonstration run by IROC cars driven by NASCAR veteran Dave Marcis and Indianapolis native Andy Hillenberg.
That was all of the running for the day as heavy rain continued to pester the three-day International Race of Champions test session.
A heavy morning downpour kept the IROC cars idle until they were brought out at about 3 p.m. to help entertain the crowd. It was hoped their brief run would aid in the drying process that was underway for some time. Yeley's car sat in the pits waiting, but it was never powered up as the thick clouds overhead began spraying the track with a fine mist as the IROC cars completed their short display.
Jim Sauter took a third IROC car out, but came in after one lap due to handling problems. Fourth driver Dick Trickle sat in the pits in uniform and later signed autographs with the others.
Marcis and Hillenberg drew applause when they made a couple passes side-by-side and dove into Turn 1.
"Me and Sauter could have put on a show for them," Marcis said. "Andy just hasn't run that much."
Said Hillenburg, a graduate of nearby Perry Meridian High School, "I'm still the new guy so I don't do any chances at all."
This test session will end Wednesday. The inaugural IROC race at the Speedway takes place July 31. It's the last of four rounds in the all-star series this year.
Jeff Sinden, owner of the two Pep Boys IRL cars, said he had hoped to have his drivers run 10 hard laps so they could test some parts for the Infiniti engines.
Odds and ends: The IROC team of president Jay Signore brought 18 sets of tires for the Indianapolis test. Two hundred tires were used at Michigan. Three cars got in 109 laps on Monday between rain showers ... In the three previous races, the winners drove different colored cars. Jeff Gordon won in a powder blue car at Daytona, Mark Martin in a white car at Fontana, Calif., and Jeff Burton a gold car at Michigan.
IROC tickets: General admission tickets for the IROC event July 31 at the Indianapolis Motor Speedway are available for $25 from the IMS ticket office. Ticket forms can be obtained by calling (317) 484-6700.
Editors Note: The images displayed in this article are available for larger viewing in The Racing Image Galleries and The Visions of Speed Art Gallery.