---
The Callahan Report: Martin Wins at another Penske Owned Track
14 June 1998
Mark Martin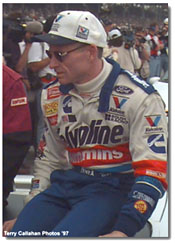 BROOKLYN, MI:
Roger Penske may have his name on the real estate deed at Michigan International Speedway but Mark Martin owns the track. Martin didn't show his power until late in the race. When he did, it was obvious he is on a mission to win his first ever Winston Cup title. Martin captured his fourth win of the season by winning the Miller Lite 400 NASCAR race at Michigan Sunday.
It seems as if Roger Penske owns the track, Mark Martin will win the race. Besides his win at Michigan Sunday, Martin won the California 500 earlier this year in Fontana. Penske owns both tracks
It appeared that the defending Winston Cup Champion, Jeff Gordon, was going to walk away with the race. Gordon led most of the first 150 laps of the 200 lap race. At the three-quarter point of the race, Martin and Gordon raced side by side for several laps. Martin was not to be denied as he pulled ahead of Gordon and never looked back.
Dale Jarrett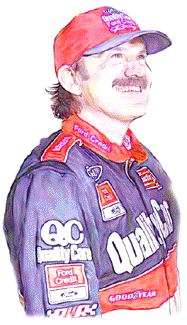 Gordon had another battle coming up behind him. Dale Jarrett also found some power at the end. Jarrett blew by Gordon in pursuit of Martin. Gordon had been 10 seconds ahead of the field earlier in the race.
"The first part of the race was a race for second," said Martin after winning the 26th race of his Winston Cup career. "Jeff Gordon was checked out and I couldn't catch him. It seems like throughout the race, they lost the handle a little."
Matin continued, "Things just played out in our favor. We seemed to chase the track around and it just came back to us in the end."
On lap 182, the leaders all made pit stops for the last time. Gordon and Jarrett were running very close. The two battled for a couple of laps while Martin pulled away.
"I was happy to see them get to racing behind me," said Martin. "Dale Jarrett was strong. Before we pitted, he was catching me a little.".
Jarrett commented, "We just couldn't get the car down on the bottom for the track early in the race. I had to run the high groove and that hurt me. Then Mark just had too much for us at the end."
Gordon admitted his car was tough to handle at the end of the race. He asked for a change. He shouldn't have.
"My car just got so tight at the end I couldn't hold Jarrett off," the two-time Winston Cup champion said, "I hated to hold Dale up. I knew he wanted to go up there and run with Mark, but I was just trying to hold on to second. I thought if I could stay on the outside of him, maybe I could hold him off. But there was no way."
Gordon continued, "Those two guys were fast all day long. I just got the jump on them early on and had no cautions to slow us down. When that caution came out, that got us behind and we were never the same."

Jeff Gordon
Gordon was able to close the series points race. The Winston Cup leader, Jeremy Mayfield, finished behind Gordon. Mayfield's lead decreased to 26 points over Gordon. Martin moved to within two points of Gordon as he makes his bid for his first ever Winston Cup title. The battle is very close indeed. Jarrett is only seven points behind Martin. Rusty Wallace fell from second to fifth in the points by virtue of his 17th place finish at Michigan.
Editors Note: The images displayed in this article are available for larger viewing in The Racing Image Galleries and The Visions of Speed Art Gallery.