---
USRRC: Visteon Panoz Racing Qualifies First and Second at Mid Ohio
13 June 1998
QUALIFYING
U.S. ROAD RACING CLASSIC
MID-OHIO SPORTS CAR COURSE
David Brabham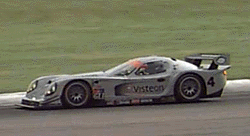 In today's qualifying session, the #4 Visteon Panoz GTR-1, driven by David Brabham, took first in the GT1 class and third overall with a lap of 1:18.492 at 103.19mph. Right behind it was the Eric Bernard-piloted #5 Visteon Panoz GTR-1, which qualified second in the GT1 class and fourth overall with a 1:19.127 at 102.36mph. The Visteon Panoz Racing Team was nipping at the heels of the first and second place #16 and #20 Can-Am cars, which lapped at 1:18.200 and 1:18.479, respectively.
It has been raining intermittently all day.
David Brabham, #4 Visteon Panoz GTR-1, qualified first in GT1, third overall:
"The Visteon Panoz was very strong and well balanced. In the beginning of the session, I found the track a little bit tricky because it was still drying. I was able to get the most out of the Michelin tires, which had a lot of grip and are perfectly suited to this track.
"I'm pleased that we are so close in time to the Can-Am cars. I think we're in good shape for the race, and I'm hoping for dry weather for us and for the fans."
Eric Bernard

Eric Bernard, #5 Visteon Panoz GTR-1, qualified second in GT1, fourth overall:
"The car is much better, especially because we were able to find some good compromises and were able to make adjustments to the car in the practice sessions. I was not able to get a clear lap because I hit a bit of traffic, so the #5 Visteon Panoz had more in it. I'm looking forward to the race."
Tony Dowe, managing director, Panoz Motor Sports:
"First and second in class is quite encouraging for the race tomorrow. I think it will be a great race because we are so competitive with the Can-Am cars."
Don Panoz, founder, Panoz Motor Sports:
"We've had a great qualifying day at Mid-Ohio, which is a great track. I'm delighted that we're not too far behind the Can-Am cars. It will be a fun race to watch tomorrow."
The 2 1/2 hour GT/Can-Am race begins at 2:00pm EST tomorrow and will be broadcast same-day at 7:00pm on Fox Sports Net.