---
NASCAR: A Four-Leaf Clover For DW At Michigan
9 June 1998
Darrell Waltrip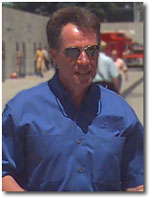 (Mooresville, N.C.) -- Karen Masencup's 74-year-old father Jack Madden kneeled down in his daughter's yard last month and plucked a four-leaf clover from the earth that he bundled in a towel and asked his daughter to pass along to his favorite driver Darrell Waltrip.
Masencup, who is Waltrip's scorer, and her husband Eddie, who is Bobby Labonte's spotter, forgot to give the clover to Waltrip at Texas where Waltrip crashed on the second lap. A few weeks later they gave the three-time Winston Cup champion the clover at California where he put it in the pocket of his Pennzoil uniform and a few hours later finished fifth.
"Eddie and I have worked for so many teams and drivers over the years, but Daddy's favorite driver has always been Darrell Waltrip," said Karen. "Daddy's pretty sick right now with heart trouble and prostrate trouble, but after California Darrell talked to him on the phone and he was absolutely thrilled."
The story didn't end there. Last week, Madden, who lives in Texas but is visiting the Masencup's in North Carolina, found another four-leaf clover. Just like last time, Waltrip plans to carry the good luck charm in the pocket of his uniform.
"He told Darrell all anyone needs is a lot of prayer and a little bit of luck and here is your little bit of luck," Karen said. "After California he was searching real hard to find another four-leaf clover and he finally found one."
"I'm no dummy," Waltrip said. "After how well it worked last time I'm going to make certain its going to be in my uniform. And if it works this time, then I think we are going to think seriously about asking (car owner) Dale (Earnhardt) about growing four-leaf clovers at our Pennzoil shop."
Waltrip Quotes on Michigan "We will run the same Pennzoil Monte Carlo at Michigan this weekend that we ran in California where we finished fifth. California and Michigan are similar tracks, but they aren't identical. If you had a good car at California, which we did, then you will probably have a good car at Michigan. I have always done well at Michigan through the years. I've learned the most important ingredient for a car at Michigan is fuel mileage. More often than not, it seems like this race boils down to fuel mileage."
THE NEXT WC RACE:
Sunday, June 14, 1998 in Brooklyn, MI for the Miller Lite 400 TV: 1:00pm/et on CBS
Practice: Friday, June 12, 1998 - 11:00am-2:30pm/et; Saturday, June 13 - 9:30am- 10:30am/et.
First Round Qualifying - 1 lap, Friday, June 12, 1998 at 3:30pm/et, live on MRN
Second-Round Qualifying: Saturday, June 13th at 11:15am/et
Happy Hour Practice, Saturday, June 13, 1998 After ARCA 200 race, before IROC race, 1 hr time permitting
Editors Note: The images displayed in this article are available for larger viewing in The Racing Image Galleries and The Visions of Speed Art Gallery
.