---
NASCAR: Kenny Wallace Looks for Better Performance at Michigan
8 June 1998
Kenny Wallace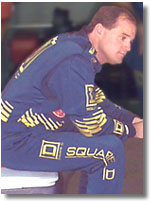 HARRISBURG, N.C., (June 8, 1998) - After starting fifth in Saturday night's Pontiac Excitement 400, Square D Ford driver Kenny Wallace could only muster a 23rd place finish at the .750-mile Richmond (Va.) International Raceway.
"The car just didn't handle," said Wallace. "The guys worked hard in the pits all night long, and we did the best we could with the car that we had." In last year's Miller 400 at Michigan Speedway in Brooklyn, Square D Ford driver Kenny Wallace was only able to complete one lap before the engine in his No. 81 Thunderbird expired. However, in this year's Miller Lite 400 at Roger Penske's two-mile oval, Wallace and his FILMAR team expect a much different outcome.
The 1998 season marks the first year that FILMAR Racing is manufacturing its own engines. Directed by veteran engine builder Keith Almond of FILMAR Engineering, the Square D outfit has experienced both reliability and competitive horsepower in their freshman year of engine building.
"Having your own engines and your own guys to work on those engines is essential - and we've got that," said Wallace. "When you're leasing motors you don't have an engine specialist right there with you. That's a tough situation, especially if you're having problems. Because you end up having to chase down your engine guy somewhere in the garage area.
"We tested at Michigan back in May and I was really impressed with the car's handling and horsepower package. We made a lot of mock qualifying runs and one good race run. I'm confident that when we hit the track in Michigan we'll be competitive."
Editors Note: The images displayed in this article are available for larger viewing in The Racing Image Galleries and The Visions of Speed Art Gallery
.