---
NASCAR-WCUP: Waltrip Ready for RIR After Scoring 9th Most Points In Last Month
2 June 1998
Darrell Waltrip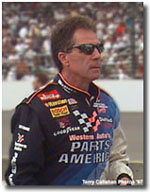 #1 Pennzoil Monte Carlo driver Darrell Waltrip scored the ninth most points in the last month of NASCAR Winston Cup competition -- the 4 races since Martinsville. He looks to continue the recent string of good performances at Richmond International Raceway on Saturday night. The three-time Winston Cup champion owns six victories and seven pole awards at RIR.
Points In The Last 4 Races
1   Gordon	680	
2   Martin	600	
3   Mayfield	560	
4   B.Labonte	559	
5   Jarrett	550
6   Irvan	542	
7   T. Labonte	509	
8   Spencer	500	
9  Waltrip	488	
10  Marlin	488	
Recent Good Runs:
"You haven't seen anything. I've said we can win races and I haven't changed my mind. You have to remember this Pennzoil team is a first-year team with a new driver. The difference for me is that these guys believe I can still drive. Plus, they turn some 17-second pit stops."
Richmond:
"The only thing the same at Richmond now compared to back before the renovation is the zip code. Everything else is different. Richmond is one of the most amazing things I have seen in racing. We raced there in February of 1988 and they started work on the old track that afternoon. By the time we came back in the fall it was a world class racing facility.
"I caused what was probably the biggest fire ever in a NASCAR race at Richmond in 1973 when I was a rookie. I think we burned up about 15 cars that day. Bobby Allison was on the pole and I was on the outside pole in Bud Moore's car. After about ten laps we were all coming around turn four about to lap Baxter Price when he spun coming off the corner. Bobby saw him spin and ducked down pit road. All I could do was scream when I saw him sitting sideways in the middle of the track. I hit him wide open. It knocked his fuel cell out of his car. Cars started crashing and ended up against each other. It was next to impossible to get out of your car. About that time fuel started trickling out of Baxter's fuel cell right under all the cars.
"I started hustling up out of the car and then all of a sudden I heard Bud Moore's deep voice over the radio. It was about the first time I'd ever used a radio. So I hear Bud's voice, "Boy, you better get on out of that car and don't forget to bring that radio too!' There are cars burning everywhere while I'm trying to get out and Bud was more concerned about the radio than anything else. There still pictures floating around of drivers walking on the hoods of other wrecked cars getting away from the flames. But, I got Bud's radio out safely."
Editors Note: The images displayed in this article (plus many more) can be viewed in The Racing Image Galleries and the Visions of Speed Art Gallery.