---
IROC: Series Champ Martin Sets Sights on Indy IROC Race
1 June 1998
Mark Martin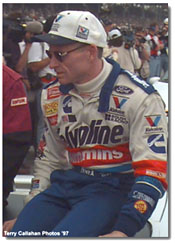 INDIANAPOLIS, June 1, 1998 -- Mark Martin, flush with victory after a surprising win earlier this month in NASCAR's The Winston, is riding a mountain-sized wave of momentum into the summer racing schedule.
In addition to claiming The Winston, an all-star race May 16 at Charlotte (N.C.) Motor Speedway, Martin scored three wins in the first 10 stops of the Winston Cup schedule.
Another highlight of the season was Martin's victory in the International Race of Champions (IROC) stop at California Speedway in Fontana. With the triumph, Martin moved into familiar territory at the top of the IROC point standings.
Martin, who lives in Daytona Beach, Fla., is the undisputed, all-time king of the unique racing series, which pits 12 drivers from different venues in identically prepared Pontiac Firebird Trans-Ams.
Since 1994, Martin has won an unprecedented three IROC championships and now boasts seven race victories. That ties him for second-place on the all-time list with seven-time Winston Cup champion Dale Earnhardt. Only CART star Al Unser Jr., with 11 career wins, has more IROC victories.
"I can't believe I won another IROC race," said Martin, after his California victory, which pushed him past defending Winston Cup champion Jeff Gordon at the top of the standings. "It's nice to be there. We've gotten off to a good start, and we'd like to challenge for our fourth championship."
With only two rounds of IROC remaining, Martin has 45 points to Gordon's 38. They're followed by NASCAR's Jeff Burton (30), Unser (26) and NASCAR's Terry Labonte (20).
"There's only four races in the IROC series, so it's important to try to get a good finish in each one," Martin said. "We're off to a good start in the race for the IROC championship."
The last two stops of the all-star racing tour are June 13 at Michigan Speedway, followed by the season finale July 31 at Indianapolis Motor Speedway.
The Indy stop is new to the IROC schedule, and Martin can't wait to hustle his Firebird through the track's demanding corners.
"Racing at Indy, period, is a thrill," said Martin, who drives a Winston Cup car for Jack Roush. "I think it'll be harder to pass there then California or Michigan. I sort of hate they took the races at Charlotte and Darlington (S.C.) out. They had two races at Charlotte, and I won them both. They had two races at Darlington, and I won them both. But this new track on the schedule has my attention. Maybe I'll be that lucky at Indy."
Luck doesn't have much to do with it. Martin has been one of Winston Cup's enduring stars. In many racing circles, Martin is considered the top driver in the big-league, stock car series.
But Martin says the biggest accomplishment of his racing career to date is his three IROC championships. Martin, modest by nature, even commissioned renowned racing artist Buzz McKim to do a print of his IROC achievement.
Martin is the only driver on the series who rewards his regular race team for his IROC participation. Martin says because of the efforts of his Winston Cup team members, he gets invited to IROC. Martin splits his season-ending IROC payout with members of his Winston Cup team.
"That's a big thrill for me," Martin said. "That's a big deal. I've split about three-quarters of a million dollars with them over the last four years. That means a lot to me."
Martin says the IROC money -- $225,000 goes to the champion -- is "mad money" that he doesn't count on during the season. He can't think of a better way of rewarding his team than with this unique bonus.
"That's free money to me," Martin said. "That's not something that's built into my economic program. It's been good for my career to do that. I've won races in IROC when I couldn't in Winston Cup. My team pulls from me."
Martin says he can't wait to compete in the Indy IROC event, scheduled the day before the fifth annual Brickyard 400 Winston Cup race.
"Like I said, racing at Indy is a thrill," Martin said. "Racing at Indy is a milestone in my career. The pride of my driving career, as of today, is my IROC success. So I say, let's go showcase it at Indy."
IROC tickets: General admission tickets for the IROC event July 31 at the Indianapolis Motor Speedway are available for $25 from the IMS ticket office. Ticket forms can be obtained by calling (317) 484-6700.
Editors Note: The images displayed in this article (plus many more) can be viewed in The Racing Image Galleries and the Visions of Speed Art Gallery.