---
The Callahan Report: Vasser Becoming Short Oval Master in CART
1 June 1998
Jimmy Vasser

WEST ALLIS, WI:
The Chip Ganassi Racing Team has never been known as a master of the short ovals on the CART FedEx Championship circuit. That fact is changing. Jimmy Vasser, the 1996 CART champion, notched another short oval victory of the season on Sunday at the Milwaukee Mile. Vasser's victory in the Miller Lite 200 was his second short oval victory of the season. He won earlier this year at Nazareth.
"All season long, I've been telling people we'd be OK if we could just get past Milwaukee," said Chip Ganassi, the former driver who owns the powerful Target Ganassi Racing Team.
The team is more than "OK" after running in Milwaukee. Ganassi's drivers are now fist and third in the 1998 series points race. Alex Zanardi, who also drives for Ganassi, has grabbed two victories for the team this year. The CART series has ran seven races so far. The Ganassi team has won four of them. Three of those victories have come on ovals.
Vasser has always been good on super-speedways and road courses. Zanardi has been a road course master ever since coming to the series in 1996. He has also proven successful on super- speedways. Now that the team has the short ovals added to their resume, the rest of the teams on the CART circuit will have to play catch up to the strong and talented Team Ganassi.
"It feels great to have done well on ovals this year after all the trouble they gave us last year," said Vasser, the senior driver on the team. "This is the last short oval of the year, so we'll have to wait and see next year if this is the beginning of an oval dynasty."
Dynasty? We haven't heard the term used since Roger Penske's Marlboro Team was dominating the CART series. The term is becoming appropriate considering the fact that Zanardi and Vasser have won 17 of the past 39 CART races.
"This team used to have no success on any short ovals," Vasser said smiling. "We've been working very hard to figure out the black art of 1-mile ovals. It's very hard to keep the car consistent from the beginning of a fuel run to the end. Obviously, we're making progress."
To say the team has it figured out is an understatement. Vasser took the lead for the final time with 74 laps remaining in the 200 lap race. He would have led earlier if Richie Hearn was on the same pit sequence as the leaders.
The race was not without its worries. Vasser had to conserve fuel. The race was run under green flag conditions from lap 131 to the finish. Vasser and the Ganassi Team are masters of strategy and were able to conserve the fuel they needed. At the end, Vasser pulled away from second place finisher, Helio Castro-Neves.
Castro-Neves is making a name for himself in the open wheel series. He started tenth today and moved consistently to his second place finish, just ahead of third place finisher, Al Unser Jr. Castro-Neves' previous best finish was seventh at Gateway International last weekend. He did not have the fuel to challenge Vasser at the end. He was trailing Vasser by only two seconds with twelve laps remaining. His fuel situation was so critical, he dropped six seconds behind Vasser on the next to last lap. He ran out of fuel on the final lap and costed across the finish line, barely in front of the screaming Penske machine driven by Unser.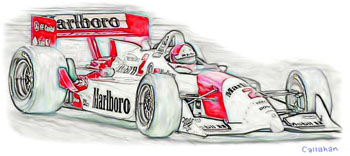 Al Unser Jr.
The win was Vasser's seventh career victory. His teammate, Zanardi, was a frontrunner until he had to stop for fuel on the 197th lap. Zanardi fell to eight place.
Zanardi continues to hold the points lead however, as his closest competitor in the chase for the PPG cup, Greg Moore, finished 13th. Zanardi now holds an eight point lead over Moore. Vasser moved into third place in the points race.
Polesitter Patrick Carpentier and Michael Andretti made contact while racing for the lead on lap 17. Andretti made a move to the inside of Carpentier as the two entered turn three. The cars touched causing Carpentier to spin and crash. Andretti held on but had suspension damage as a result of the contact.
Andretti commented, "That's the first time I ever raced against Patrick and I guess I learned a lesson. He tried to out brake me and he gave me no room."
Carpentier defended himself saying, "I didn't see him in my side mirror. I thought I had the line."
Al Unser Jr.'r third place finish was his best since the race in Japan earlier this season. He said "This is a radical new car and we had a list of 100 items to work on when we got started on this car over the winter. We've been able to get to most of it and we've gotten a lot of testing done.
"Since Japan, we've had our share of out engineering ourselves and bad luck. Now we've got things turned around and this championship isn't over by any means. We're ready to get to Detroit and see what kind of road racer it is.''
The CART FedEx Championship series resumes in Detroit (Belle Isle) next weekend.
Following are the results of the Miller Lite 200. The results include finishing position, (starting position), driver, hometown/country, chassis-engine, laps completed, and reason out (if any):
1. (5) Jimmy Vasser, Las Vegas, Reynard-Honda, 200.
2. (10) Helio Castro-Neves, Brazil, Reynard-Mercedes, 200.
3. (7) Al Unser Jr., Albuquerque, N.M., Penske-Mercedes, 200.
4. (6) Dario Franchitti, Scotland, Reynard-Honda, 200.
5. (12) Bobby Rahal, New Albany, Ohio, Reynard-Ford, 200.
6. (24) Richie Hearn, Henderson, Nev., Swift-Ford, 199.
7. (14) Paul Tracy, Canada, Reynard-Honda, 199.
8. (9) Alex Zanardi, Italy, Reynard-Honda, 199.
9. (23) Adrian Fernandez, Mexico, Reynard-Ford, 199.
10. (13) Scott Pruett, Crystal Bay, Nev., Reynard-Ford, 199.
11. (21) Bryan Herta, New Albany, Ohio, Reynard-Ford, 198.
12. (18) Mark Blundell, England, Reynard-Mercedes, 196.
13. (2) Greg Moore, Canada, Reynard-Mercedes, 195.
14. (22) P.J. Jones, Rolling Hills, Calif., Reynard-Toyota, 195.
15. (25) Michel Jourdain Jr., Mexico, Reynard-Ford, 194.
16. (19) Max Papis, Italy, Reynard-Toyota, 194.
17. (26) Tony Kanaan, Brazil, Reynard-Honda, 192.
18. (3) Andre Ribeiro, Brazil, Penske-Mercedes, 189.
19. (8) J.J. Lehto, Finland, Reynard-Mercedes, 119, overheating.
20. (16) Robby Gordon, Orange, Calif., Reynard-Toyota, 118, crash.
21. (11) Mauricio Gugelmin, Brazil, Reynard-Mercedes, 102, electrical
22. (15) Gil de Ferran, Brazil, Reynard-Honda, 88, engine failure.
23. (20) Arnd Meier, Germany, Lola-Ford, 82, handling.
24. (17) Roberto Moreno, Brazil, Swift-Ford, 49, electrical.
25. (1) Patrick Carpentier, Canada, Reynard-Mercedes, crash.
26. (4) Michael Andretti, Nazareth, Pa., Swift-Ford, crash.
Race Stats
Time of race: 1 hour, 34 minutes, 17.011 seconds.
Margin of victory: 7.673-seconds.
Winner's average speed: 131.349 mph.
Caution flags: 4 for 37 laps.
Lead changes: 9 among 7 drivers.
Lap leaders: Carpentier 1-16; Moore 17-71; Vasser 72-73; Castro-Neves 74; Pruett 75-76; Hearn 77-95; Tracy 96-121; Hearn 122-125; Vasser 126-200.
Series points leaders: Zanardi 92; Moore 84; Vasser 72; Fernandez 59; Andretti 49; de Ferran 41; Herta 39; Franchitti 38; Unser 30; (tie) Castro-Neves and Rahal 28.
Editors Note: The images displayed in this article (plus many more) can be viewed in The Racing Image Galleries and the Visions of Speed Art Gallery.