---
NASCAR BGN: Tony Stewart Ready for Challenge of Monster Mile
27 May 1998
Tony Stewart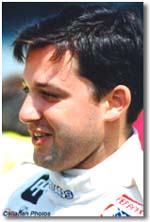 DOVER, DL - In 1997, the Shell team and Bobby Labonte took home the victory in the MBNA Platinum 200 at Dover Downs International Speedway. This year the team returns to the "Monster Mile" with Tony Stewart behind the wheel looking to successfully defend their win.
The race will mark Stewart's first run at Dover in the Shell Pontiac. He did compete in the spring Busch event in 1996.
"Dover has the reputation of being a difficult race track," said Stewart. "With my limited experience there in a Busch car, it's a great confidence booster knowing my team has an extensive knowledge of the track. We are coming off our second place in New Hampshire and the team had a good run with Bobby at Charlotte. It always helps to have momentum on your side when you unload for a race.
"I have put the disappointment of the Indianapolis 500 behind me and am totally focused on this race with the Shell team. While at Indy, I received great support from Bryant (Frazier, crew chief) and all the guys on the crew as well as everyone else at Joe Gibbs Racing. Bobby did a great job in the Shell Pontiac at Charlotte. Obviously we were hoping for a different outcome in the 500, but it didn't turn out that way. If you don't learn to move on from the down times in this sport, you won't make it very far. I'm fortunate to have a sponsor like Shell and Joe Gibbs as a team owner. They have given me the opportunity to move to the next level in my career but at the same time have been understanding and cooperative in the pursuit of my dream to win the Indianapolis 500. Now it's time to concentrate on having a good race at Dover and work to put Shell in victory lane."
"We feel Tony has an excellent opportunity to take the Shell team back to victory lane at Dover," said Bryant Frazier, crew chief. "With Bobby's win last year and two pole positions in previous years, we have learned what it takes to get around this track. It's a tricky place, short but fast. It helps to have notes from previous successes to use as a starting point for this year's race. With Tony and Bobby racing the Shell Pontiac this season, we have developed the ability to transfer good setup information from one driver to the other. No two drivers have a car set up exactly the same. This team has risen to the challenge of two drivers and gained valuable experience that we are working on translating into consistency at every race. While it's never easy, this team has talented team members and good drivers. We are looking to keep our string of solid runs and good finishes going at Dover."
The MBNA Platinum 200 is scheduled to begin at 1:00 p.m. EDT on Saturday, May 30. The race will be televised live by TNN with Eli Gold, Buddy Baker and Darrell Waltrip anchoring the broadcast booth. MRN will broadcast the race to over 200 radio station affiliates nationwide.
Shell Oil Company is one of America's leading oil and natural gas producers, manufacturers, transporters and marketers of oil and chemical products. It is a recognized pioneer in technology for oil and gas exploration and the largest gasoline marketer in the United States. Headquartered in Houston, Texas, Shell Oil is an affiliate of the Royal Dutch/Shell Group of Companies. Editors Note: The images displayed in this article (plus many more) can be viewed in The Racing Image Galleries and the Visions of Speed Art Gallery.