---
NASCAR-WCUP: Darrell Waltrip: Battling Lap Leaders, Dover & Jokes
27 May 1998
Darrell Waltrip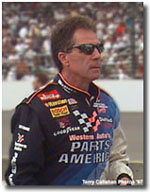 Ask Mark Martin and Jeff Gordon if Darrell Waltrip still has the desire to race in the NASCAR Winston Cup Series. The two race leaders spent more than 70 laps trying to lap the three-time Winston Cup champion during Sunday's Coca-Cola 600. Waltrip drove inches from the wall and expertly used lap traffic to keep the leaders behind him. He held off both Martin and Gordon, but eventually lost his lap when Jimmy Spencer, stretching fuel mileage after Waltrip and the leaders pitted, benefited from a caution and lapped several cars. Waltrip started 43rd and was running about 13th with 20 laps to go before a late-race gamble to gain more spots by staying on the track and not taking tires during the final pit stop dropped him to 17th.
This week Waltrip goes to Dover armed with crew chief Philippe Lopez and his Dale Earnhardt Inc. team that turned two 17-second pit stops on Sunday and plan to prove DW can race at the 1-mile concrete oval.
Last Week's Battle With Mark Martin & Jeff Gordon:
"I was loving it. I was aggravating the heck out of Mark Martin and Jeff Gordon. I could almost hear Mark yelling to Jack Roush, 'Get him out of my way!' And Gordon was there too. I always like to drive off and leave Gordon because it frustrates him as well. I can hear him complaining to Ray Evernham. 'I can hardly drive my car because it's so loose and look at that the Pennzoil car just drove off and left me!' There couldn't have been two better combatants at that point in the night because I respect their driving abilities. That was fun. I was racing like I was trying to win and gain back a little more respect."
What Is The Secret To Dover:
"I don't know the secret to Dover. I have struggled there. The last asphalt race there I ran third. Ever since they concreted that thing I haven't been able to keep up. I used to just ride around on the inside until I got tired then pulled into the infield, packed up and went home. I will tell you this. These Pennzoil guys will be my heroes if they can keep me up with the lead pack at Dover. I have run so badly there. I have parked my car about three times.
"We sure aren't going to park this week. After our fifth place finish at California and how good we ran at Charlotte, I expect to race with that lead pack. Everyone keeps asking what is the difference this year. It's simple. The difference now is that I'm so comfortable in the cars. The cars are good driving racecars, just what a driver likes. I can't believe I'm saying this, but I'm really looking forward to Dover. This time I'm going to be ready to go."
Favorite Dover Story:
"Terry Labonte didn't know that I knew this story, but a guy on our crew told me. Terry was at Dover last year and I guess he was lapping me about every 20 laps. We kept running and he kept going by us and going by us. Finally Terry radios to his pit. 'Let me ask y'all something. How many damn #17 cars are in this race anyway!' I thought that was funny. So, when we went to Pocono I was having a pretty good day and they were struggling and after the race I asked him, 'How many #5's were in that race today.' Both of us laughed."
Editors Note: The images displayed in this article (plus many more) can be viewed in The Racing Image Galleries and the Visions of Speed Art Gallery.