---
Indy 500: Champ Cheever Earns $1.43 Million of Record "500" Purse
26 May 1998
INDIANAPOLIS- Eddie Cheever Jr. earned $1,433,000 of the largest purse in motorsports history for winning the 82nd Indianapolis 500, according to final prize figures announced during the Victory Banquet.

Eddie Cheever Jr.
The total purse was $8,722,150, an Indianapolis 500 record. The previous record was $8,612,450, set in the 1997 edition of the world's richest and most prestigious auto race. The purse is comprised of Indianapolis Motor Speedway and Pep Boys Indy Racing League awards, and designated and other awards.
Cheever, 40, from Tampa, Fla., beat 1996 Indy 500 champion Buddy Lazier by 3.191 seconds Sunday to claim his first "500" victory in the Rachel's Potato Chips Dallara/Aurora/Goodyear fielded by his Team Cheever. He became the first owner-driver to win the race since A.J. Foyt in 1977.
Steve Knapp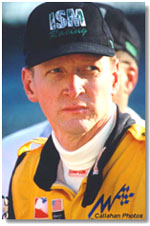 Lazier earned $483,200 for finishing second. Rookie Steve Knapp collected $338,750 for third, including $10,000 for being named Bank One Rookie of the Year. Pole sitter Billy Boat earned $364,200 - the third-highest sum this year - despite finishing 23rd. Various bonuses and designated awards for winning the pole, including the $100,000 PPG Pole Award, boosted Boat's total.
Cheever's winner's purse was the second largest in "500" history, trailing only the $1,568,150 earned by Arie Luyendyk for his victory last year. Luyendyk's total was larger because he won the event from the pole position, earning the PPG Pole Award and other pole-related designated awards.
A record 22 of the 33 starters this year earned more than $200,000, easily breaking the previous record of 13 set last year.
Prize amounts ranged from Cheever's winning total to $132,300 for rookie Donnie Beechler, who finished 32nd.
The 83rd Indianapolis 500 is scheduled for May 30, 1999.
Editors Note: The images displayed in this article (plus many more) can be viewed in The Racing Image Galleries and the Visions of Speed Art Gallery.